Involvement in your own healthcare
One of the 12 statements in our document, Care and treatment: your rights and choices covering the rights and services that a person with epilepsy can expect.
Care and treatment: your rights and choices says: 'You have a right to be involved in your healthcare and you should have enough information, and appropriate support, so that you can make informed decisions about your health and be an active participant in all decisions about your epilepsy treatment and management.'
National guidelines
The NHS Constitution says:
"You have the right to be involved in discussions and decisions about your health and care, and to be given information and support to enable you to do this."
The NICE clinical guideline for epilepsy says:
"Healthcare professionals should adopt a consulting style that enables the [person with epilepsy], and their family and/or carers as appropriate, to participate as partners in all decisions about their healthcare, and take fully into account their race, culture and any specific needs."
You should be as actively involved as you want to be in all discussions and decisions about your health and epilepsy management. This includes being given enough information to make informed decisions about your care, at the time you need the information, and presented in a way that is useful for you so that you can understand how it affects you individually.
NICE provides 'Pathways on epilepsy' - interactive topic-based diagrams which aim to enable you and your healthcare professionals to quickly view and navigate all NICE guidance recommendations on the care of someone with epilepsy.
Your healthcare professionals should make sure you have the information you need, and support you to make decisions. Having information about epilepsy is important, but you also need to be able to consider how this applies to your specific situation, so that you can make the right decisions for yourself. For example, making an informed decision about whether to start treatment with medication means having information about the options available, including the risks and benefits of taking or not taking medication, and time to consider your decision.
Your situation, and your choices about treatment and care, may change over time. It is important that you are given information and support to make decisions as your situation changes. In some situations, it might be appropriate for you to be referred back to services, or to new services, if they are better suited to meet your needs.
For example, when young people reach 'transition' (usually at around 16 to 18 years of age) they should be supported in moving from paediatric services to adult services. Women with epilepsy who have been under the care of their GP if their epilepsy is well controlled, should be referred to a neurologist if they are planning a pregnancy. See comprehensive care plan
Both the NHS Constitution and the NICE guideline recognise the importance of involving your family and carers in helping you to make informed decisions, if you would like them to.
Information is important throughout your epilepsy diagnosis, treatment and management. Your healthcare professionals might use checklists of topics that you might want information on, or to discuss. This includes information about:
epilepsy, including specific information about your epilepsy
seizures, including your seizures and possible seizure triggers
treatment options, including medication or surgery, depending on your type of epilepsy
any relevant issues around education or employment, depending on your age
practical issues such as driving, benefits and financial support
lifestyle issues such as leisure activities, alcohol and sleep
self-management issues such as looking after yourself
emotional and psychological issues such as the impact on memory and mood
risk and ways of reducing risks, accidents and injuries, and first aid for seizures. Some people with epilepsy have status epilepticus (prolonged or repeated seizures) and it is possible, although not common, to die due to epilepsy. So information on sudden unexpected death in epilepsy (SUDEP) may be appropriate, depending on what your epilepsy is like and how it affects you.
Other issues might be relevant for particular individuals. For example, information around contraception and pregnancy for girls and women.
Information produced: January 2019
Our document, Care and treatment: your rights and choices explains your rights and the services that you can expect as someone with epilepsy.
Managing your treatment is an important part of managing your epilepsy, and seeing whether your medication is working. This might include having a care plan, including a treatment plan.
The decision whether to start taking anti-epileptic drugs (AEDs) can be difficult, and there is a lot to think about. Here we look at the benefits and risks of taking, or not taking, AEDs.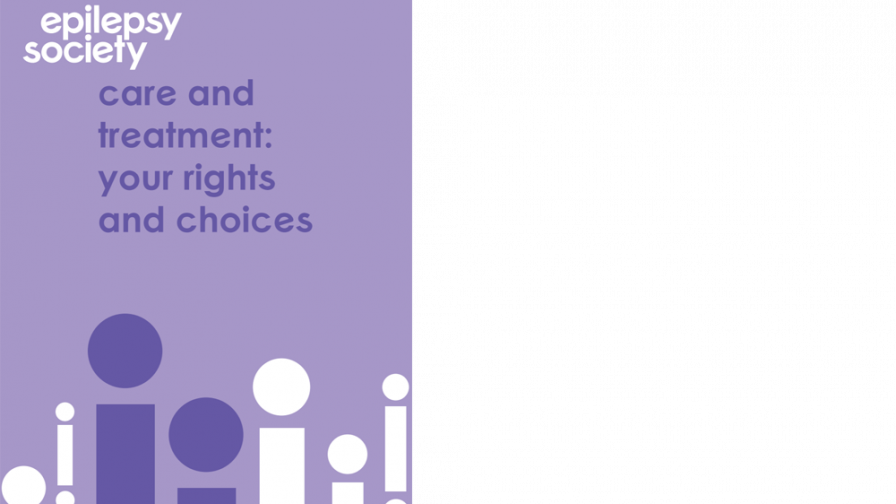 Get a copy of Care and treatment: your rights and choices
Download Care and treatment: your rights and choices.
Alternatively, our quick guide Care and treatment: your rights and choices summarises the key points.