Top tips for travelling abroad with epilepsy
Our Education, Information and Support Services Manager, Andrée Mayne, gives some helpful tips on travelling with epilepsy if you're going on holiday this summer.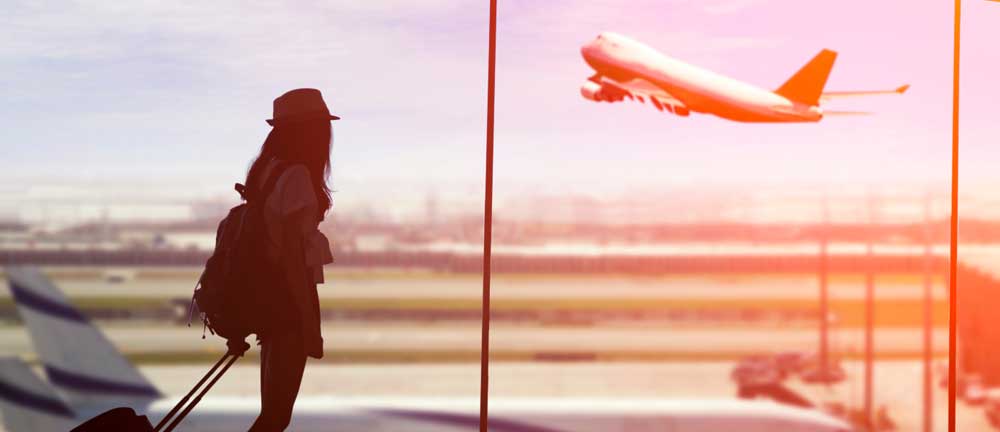 A wise person once said, "travel is the only thing you buy that makes you richer" and with countries now opening their borders for travel and the government considering travel for the fully vaccinated this is the perfect time for us to give you our four top tips for flying with epilepsy. 
Tip 1 - Tell people about your epilepsy
Travelling with epilepsy isn't necessarily a problem but for some people it may mean a bit of careful preparation and planning.

If your seizures are triggered by tiredness, dehydration, excitement or anxiety, it can be helpful to inform the airline when you book, so that the cabin crew can accommodate you during your flight. If you're travelling with friends or family make sure everyone knows about your epilepsy and what to do if a seizure happens.
Tip 2 - Take enough medication with you
There are two types of holidaymaker. One is the super-efficient and organised person who has everything ready in advance. I tend to fall into this category and have even been known to pack my bag two weeks before my holiday! Then there are those who don't think too far ahead and leave everything to the last minute. They enjoy the thrill of spontaneity and see it all as part of the holiday adventure, possibly even packing their bag an hour before they leave. 

Whatever type of holidaymaker you are make sure you take enough medication in its original packaging for your entire holiday. It never hurts to take extra in case you get delayed.

Keep all your medication in your hand luggage in the original containers. Airport security regulations allow you to carry tablets, capsules or liquids up to 100ml. If it's vital that you have a medicine container which is larger than 100ml you will need to contact the airline before you fly. It may also be helpful to have a letter from your GP or specialist explaining about your epilepsy and the medication you take.
In some countries your particular epilepsy drug may not be available or may have a different name. If you are planning a long trip of three months or more, your GP may not be able to prescribe enough medication. 
Tip 3 - Crossing time-zones
It is important to continue to take your anti-epileptic drugs at the prescribed intervals. 

Some people wear two watches, keeping one at British time so that they know exactly when to take their AEDs. But, you may need to make some adjustments if you end up needing to take your medication in the middle of the night. Any changes will depend on how far you are travelling, how many time zones you pass through and how long you are away. Your GP can help you to plan any adjustments.
Tip 4 - Shop around for travel insurance
Insurance can be confusing for anyone, but when you have epilepsy it can be even harder to understand what you're covered for and what you're not covered for. 

Insurance companies may charge you more because of your epilepsy, but it will also depend on the type of seizures you have and when you last had a seizure. 

Make sure you know exactly what the policy covers. Try different insurance companies to make sure you get the quote that best covers your needs. 
 
If you have any other questions around flying with epilepsy please email us enquiries@epilepsysociety.org.uk

You can also find further information on travel and holidays on our website, including crossing timezones and vaccinations. To access travel information for specific countries in relation to the Covid-19, please refer to gov.uk for rules and restrictions.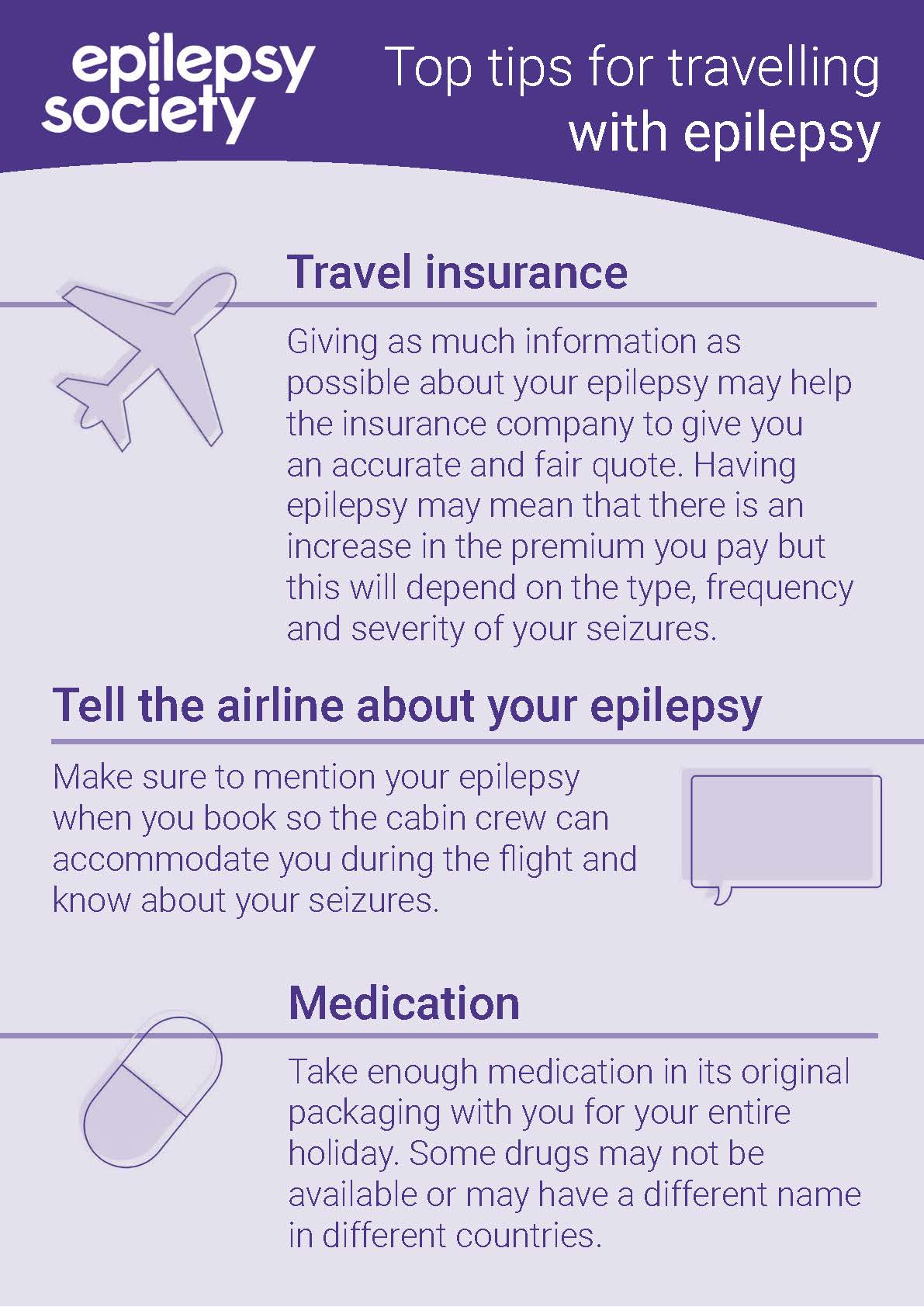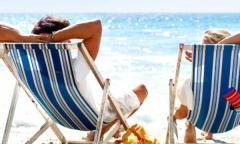 Having epilepsy should not usually prevent people from travelling. Planning ahead can help you stay well and make the most of your trip. Here are some ideas to consider if you are planning to travel.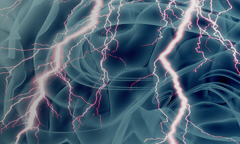 Epilepsy is not just one condition, but a group of many different 'epilepsies' with one thing in common: a tendency to have seizures that start in the brain.
Please support us.
In these challenging times, charities like Epilepsy Society rely on donations to ensure vital services for our beneficiaries can continue. If you can spare a donation or pledge a monthly gift, you will be helping to ensure we continue to support everyone affected by epilepsy. Thank you.