Our helpline will be opening five days a week again
Clare Pelham, Chief Executive at the Epilepsy Society, said: "This really is fantastic news and what a great start to 2020. We know how important it is for people affected by epilepsy to be able to call our Helpline, either for information or for emotional support. And we couldn't be more thrilled to be able to extend the service from three days to five days a week.
"From the bottom of our hearts, we would like to thank everyone who has donated money to our Helpline appeal, and of course a huge thank you  to our very generous donor who agreed to match, pound for pound, the first £62,500 that was raised by the end of 2019."
How you helped us achieve our goal
With your help, we had already raised half the money required to open the Helpline five days a week. But our Christmas appeal set out to raise a further £125,000.
Donations from our supporters raised £40,000 and a further £22,500 was donated by a trust.
With match-funding from our donor, this means we now have the extra £125,000 that will allow us to restore the Helpline to five days a week for the foreseeable future.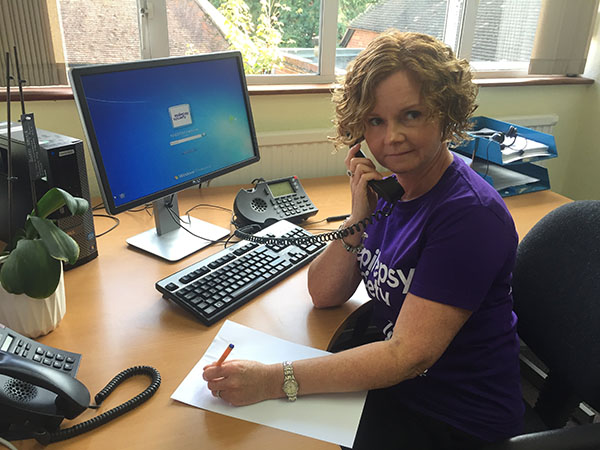 Helpline Manager Andrée Mayne said: "For the last three years it has been very frustrating to know that we have only been able to open our Helpline from Monday through to Wednesday. We knew that people would be ringing us on Thursdays and Fridays but would not be getting the help that they needed.
"It is a huge relief to be able to restore the Helpline to a full five-day service and we look forward to being there, at the end of the line, for when people want to talk."
Look out for more details
The Epilepsy Society's Helpline currently answers 3,000 calls every year as well as responding to around 2,700 emails. By opening five days a week, it will be able to take around 2,000 extra calls.
Look out at Twitter.com/epilepsysociety and Facebook.com/epilepsysociety for full details of when the Helpline will begin operating its new five-day service.
Find out more about our epilepsy Helpline.