Appropriate treatment and consistent medication
One of the 12 statements in our document, Care and treatment: your rights and choices, covering the rights and services that a person with epilepsy can expect.
Care and treatment: your rights and choices says: 'You have a right to appropriate treatment options, and should have a consistent supply of medication.' Your specialist should work out what is the best treatment for you, and you should have access to the drugs that they recommend.
National guidelines
The NHS Constitution says:
"You have the right to drugs and treatments that have been recommended by NICE* for use in the NHS, if your doctor says they are clinically appropriate for you."
This means that if the drug that is most suitable for your epilepsy is recommended by NICE, you should be able to receive it. This depends on:
the drug being 'clinically appropriate' (that it is the right drug for your epilepsy, your seizures and for you)
the drug has been through a health technology appraisal*.
The NICE guideline for epilepsy lists anti-epileptic drugs (AEDs) that are recommended for different types of epilepsy and seizures, which have been recommended through health technology appraisals. There may be other drugs that have not been through an appraisal (for example, newer drugs), which may be useful for you.
The NICE clinical guideline for epilepsy says:
"AED treatment strategy should be individualised, taking into account ... any other medication being taken, any other medical conditions, your lifestyle and preferences."
When discussing a treatment plan with your specialist, they will identify the treatment best suited to your epilepsy and seizures (for example, some AEDs work better for certain types of seizures than others). However, they should also take into account your overall health (such as whether you take drugs for any other condition), and your lifestyle and preferences. For example, some AEDs might make you feel tired, so they might be best avoided if you are working or studying.
The AED Sodium Valproate is a particular issue for women and girls see comprehensive care plan
*recommended by a NICE technology appraisal – for more information, see documents and organisations used to develop Care and treatment: your rights and choices.
Consistency of supply
Most AEDs have two names: a generic name (for example carbamazepine) and a brand name given by the manufacturer (for example Tegretol). Some AEDs have more than one generic version, each of which can be given its own name.
For some AEDs, different versions of the drug can vary slightly and this could affect seizure control. Once you and your doctors have found an AED which helps control your seizures, and which suits you, it is recommended that you take this version consistently with every prescription (called 'consistency of supply'). If a prescription only has the generic name, a pharmacist can give any version of that drug. However, if the prescription has the brand name, the pharmacist has to give that brand of AED. You can ask your GP or neurologist to specify the version you need by writing it on your prescription.
The Medicines and Healthcare products Regulatory Agency (MHRA) has issued guidance on prescribing AEDs.  They say that certain AEDs must be prescribed with the same version, and that for other AEDs this is less important. This aims to help doctors decide whether they should prescribe a particular version.
Some drugs are made abroad and brought into the UK, or are made in the UK, exported and then brought back to the UK. These are called 'parallel imports'. They are sometimes labelled in a different language or have different packaging from usual. If you are concerned about taking parallel imports, you can ask your doctor to write 'no parallel imports' on your prescription. Although pharmacists don't have to follow this, many will try to ensure that you are happy about your medication. It can be useful to get your prescriptions from the same pharmacist each time, as they may keep patient records and be able to help with any queries.
Find more information about getting the right medication including a letter you can download to give for your neurologist, GP or pharmacist about not switching your drugs.

Information produced: January 2019
Our document, Care and treatment: your rights and choices explains your rights and the services that you can expect as someone with epilepsy.
Managing your treatment is an important part of managing your epilepsy, and seeing whether your medication is working. This might include having a care plan, including a treatment plan.
The decision whether to start taking anti-epileptic drugs (AEDs) can be difficult, and there is a lot to think about. Here we look at the benefits and risks of taking, or not taking, AEDs.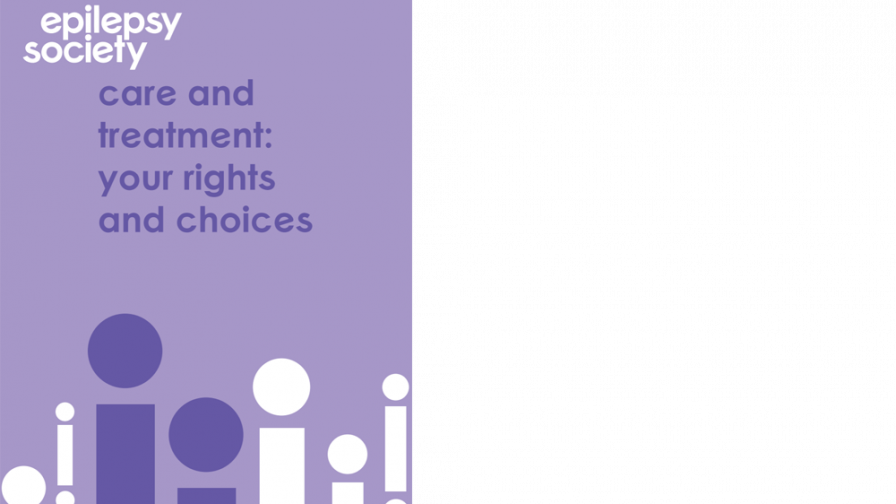 Get a copy of Care and treatment: your rights and choices
Download Care and treatment: your rights and choices.
Alternatively, our quick guide Care and treatment: your rights and choices summarises the key points.