Having a seizure while cycling
Cyclist Tim Fry had a seizure while out on his bike. His video camera captured the seizure and here Tim is happy to share the footage in the hopes that it will help others to understand just what it is like to have a seizure and the time it can take to recover.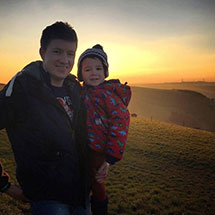 I was diagnosed with epilepsy when I was 29 after having two seizures a few years apart. Both were in fairly extreme situations, the second being 20 minutes after breaking my wrist in a ski accident.  Since then I've had another six seizures including one being in a random sitting situation. 
This has had a massive impact on me mentally due to the unknown and the worry about when it might happen again. I have a three-year-old son, Alfie, and continue to worry at times when I'm out with him alone.
It wasn't till February 2014 that I decided to go onto medication when I knew I couldn't control my epilepsy – I'm still on lamotrigine.  I've had three seizures since starting the medication and all when doing sports. The medication dosage has been ramped up.  All medical checks have been done, all clear. 
Cycling and epilepsy
I cycle a fair bit and continue to do so. I film some of it with a sports camera for fun and playback. In the video shown here, I remember up until the seizure point and some five minutes later when I woke up in a very confused state. All my seizures have been the same, no real prior warning. 
Two other further seizures were during sport too, one on my bike in a sprint race when I ended up cycling into a wall causing bit of an injury!  The other playing intensive indoor football.
My father and sister have also had single seizures but have grown out of them early in their 20s so I'm hoping for the same.
Seizure threshold
I've been seizure free for over a year now.  I've realised that my seizures definitely happen for a reason. I keep an eye on sleep, stress, diet and exercise.  Exercise is really important but I keep a close eye on heart rate, fatigue and body heat to minimise any chance of anything happening.  I think everyone in life has a seizure threshold - it's just mine is much lower than others'.
I hope the video gives a realistic first person viewpoint of what happens during a seizure and that it will help to make people more aware of the condition.  No one fits into one category for epilepsy. It's just my experiences and views on it. I know others have a much harder time and I'm grateful that I have it fairly easy,  Finding a good medical consultant has been a massive help.