Jasmine and Jordan's story
Jasmine tells her story about caring for and supporting her partner of three-years, Jordan, who has had epilepsy since he was 16 years-old. Jasmine also talks about her goal to raise awareness and help to support people with epilepsy.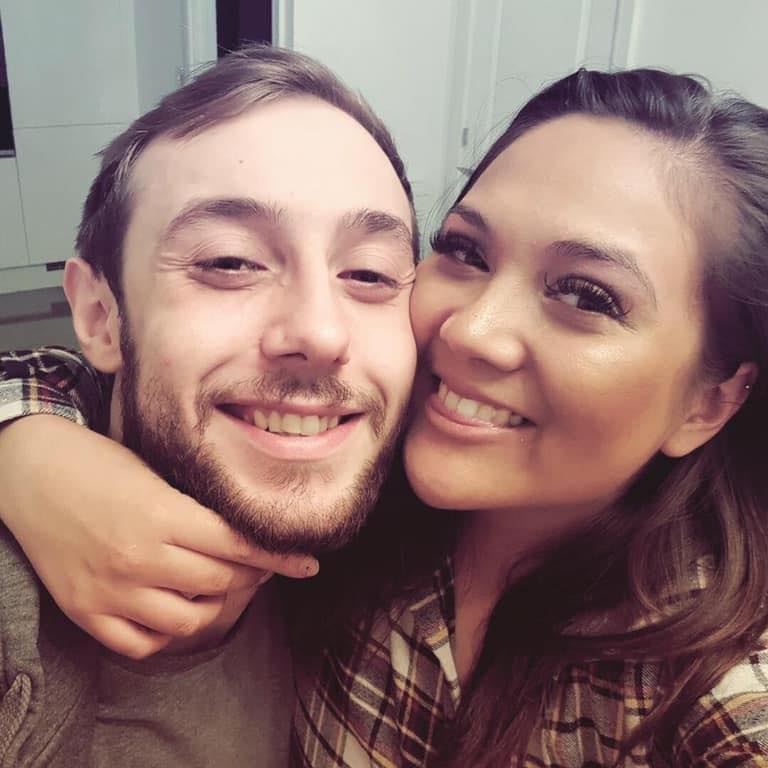 I have been helping my partner for the last three years, no one had helped him prior until he met me and my two children and we now have a child of our own. I helped Jordan and you can say I saved his life a few times from suffocation. It makes me sad that before this, he had no one to guide him down the right path towards support.
"I want to be the voice for epilepsy and spread awareness"
He developed epilepsy when he was 16 years old, he is now almost 27. He has generalized epilepsy with three types: he has juvenile myoclonic epilepsy, photosensitivity, and also absence seizures. I'm on...I could not even tell you how many support groups for epilepsy I am on. His seizures have calmed down since being on valproate, he went a year seizure-free, but unfortunately, after the 12-month mark, he took a turn in August, up to now since his episode of another seizure, he has been seizure-free for two months now.
Since I am his carer the doctors and nurses have no other choice than to listen. I am very vocal and have a good support system via social media as I am an undergraduate Graphic Designer and Freelance. I want to be the voice for Epilepsy and spread awareness. Jordan has a lot of stigma around epilepsy.
Friends and family life
As I said before Jordan struggled with support from people, and he was in denial. He was a young lad with a disorder his friends did not have, and it broke his heart he could not live the lifestyle his friends had, the party scene, the holidays. The thought of staying over his friends terrified him as they would have to deal with, in his own words, a "disabled freak, that only is disabled when his eyes shut". Those words broke me into a thousand pieces as you could imagine.
This is where the stress and anxiety trigger his epilepsy. He has a family, a family he would love nothing more than to provide for, and care for them the way again in his own words "a normal dad would". Jordan struggles for the activities he would like to offer to his children, although, in my opinion, he does a very good job. He's a great and supportive father to his children and a tremendous partner.
"He was living in fear they would sack him"
Jordan has a huge passion for tech work, but unfortunately again, due to his photosensitivity, looking at a screen for too long could trigger a seizure and put himself and others at risk. He has applied for countless jobs and he has lost multiple jobs due to epilepsy. He has at times chosen to be honest about his condition but if they did not know about his condition, he would make the excuses of "he is not well" when truthfully, it was that he had a seizure. He was living in fear that they would sack him if he told them.
Jordan eventually gave up on work, it was making him ill, so he applied for PIP. We thought this would help Jordan calm down from stress worries about work, and we put his health first as this to me is the most important thing. At the same time I find it ridiculous how much he gets, £250.00 a month, I find it disturbing.
"People have made a mockery out of him"
Jordan is not someone who is open about his feelings, nevertheless, I get them out of him. His depression has taken a massive toll on his life, he does not get out of the bedroom often unless we do things as a family. People have made a mockery out of him because he walks around with a hidden disability card but the truth is, it is a disability.
Support for loved ones
I personally Epilepsy Society for support, and other epilepsy helplines. They helped me extremely. I want to help by setting up campaigns and people offering services to help donate towards more support with epilepsy, and awareness. Our daughter wants to help too, it has broken her heart as there have been a few occasions she has had to see her dad in that way, luckily our sons haven't.
I hope I can help, I will do whatever I can to stand for those with Epilepsy and also my partner, from someone who doesn't have epilepsy but I get it. It sometimes nice to know that there is support out there from someone who does not have it but someone very close to them does.
The Epilepsy Society helpline
Our helpline team understand epilepsy, and can offer information and emotional support to people with epilepsy and to those who have a loved one affected by the condition. Call them on 01494 601 400, Monday - Friday 9-4pm and Wednesday 9-7.30pm, or email helpine@epilepsysociety.org.uk.