Express's Richard Madeley calls for internet trolls to be prosecuted
Daily Express columnist and tv presenter, Richard Madeley has called for internet trolls to be prosecuted for targeting Epilepsy Society campaigner, nine-year-old Zach Eagling.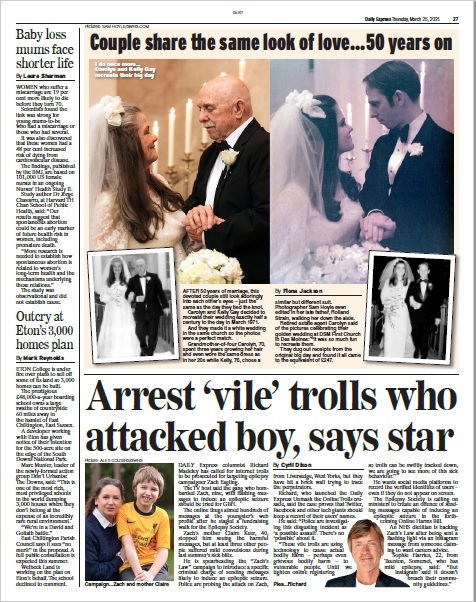 He said the group who targeted Zach and others with epilepsy, with flashing images designed to induce seizures, should be tried for grievous bodily harm.
A police investigation into the co-ordinated attack last year fell apart as Twitter does not retain data for longer than three months.
'Possible assault'
Talking in the Express, Richard Madeley said: "Police are investigating this disgusting incident as a 'possible assault'. There is no 'possible' about it. 
"These vile trolls are using technology to cause actual bodily harm – perhaps even grievous bodily harm – to vulnerable people. Until we tighten online registering so trolls can be easily tracked down, we are going to see more of this sick behaviour."
The columnist is calling for social media platforms to record the verified identities of users, even if they do not appear on screen.
The Epilepsy Society is campaigning for the Government to recognise this type of abuse as Zach's Law in its Online Harm Bill, so that trolls can be prosecuted.

Support from MPs
Acting Head of External Affairs, Nicola Swanborough said: "We are grateful to Richard Madeley for lending his voice to this campaign and to the Express for highlighting this unacceptable targeting of people with a disability.
"We have also been pleased to receive the support of many politicians for our campaign – politicians who are incredulous that keyboard warriors would deliberately send flashing  images to cause both physical and psychological harm to a vulnerable group of people."
Ofcom have been appointed as regulators of the social media platforms and the charity is working closely with the regulator to ensure that measures are introduced to safeguard people with photosensitive epilepsy online.