Caution advised over new links between pregabalin and birth defects
Epilepsy Society's medical director Professor Ley Sander has advised women who are taking pregabalin not to panic over new research which suggests the epilepsy drug could pose risks for an unborn child if taken during pregnancy.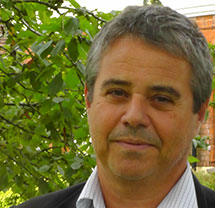 The research published in the journal Neurology, showed that the babies of women who were taking pregabalin during the first trimester of their pregnancy, were three times more likely to have a birth defect than babies born to women who weren't taking anti-epileptic drugs.
The study, by researchers also showed that women taking pregabalin were six times more likely to have a baby with a major defect in the central nervous system.
Professor Ley Sander advises caution
Professor Sander (right)  cautioned, however, that the study was very small, involving 164 women on pregabalin and 656 pregnant women not taking anti-seizure drugs from seven countries. Only five women with epilepsy were involved in the study. Other women in the trial were being treated for neuropathic pain, psychiatric disorders and restless leg syndrome.
'This is a very small study so we cannot draw any firm conclusions from it,' he said. 'However it does suggest that further investigation is necessary.
'It is important that women with epilepsy discuss their medication with their GP , ideally before trying for a baby or when they are pregnant. If a woman with epilepsy is planning to start a family, this is a good opportunity for her to seek the advice of her neurologist so that issues around seizure control and risks to a developing baby can be fully discussed.
'Women with epilepsy should not stop taking their anti-seizure medication without seeking the advice of their neurologist or GP.'
More studies needed
Of the women taking pregabalin, 13 per cent were also taking another anti-seizure drug. The women in the study stopped taking the drug six weeks into their pregnancy.
The researchers concluded:  'This study demonstrated a signal for increased risk of major birth defects after first trimester exposure to pregabalin. However, several limitations such as the small sample size, differences across groups in maternal conditions, and concomitant medication exposure exclude definitive conclusions, so these results call for confirmation through independent studies. '
Find out more
Epilepsy helpline 
Our confidential helpline is for anyone in the UK affected by epilepsy.
Call: 01494 601 400 (national call rate)
Daytime: Monday, Tuesday, Thursday and Friday 9am - 4pm
Extended hours: Wednesday: 9am - 8pm
Email: fromthehelpline@epilepsysociety.org.uk
Read more about the helpline here