Help with reporting side effects from your medication through the Yellow Card scheme
Did you know that if you have a side effect from one of your medications, you can report it through the Yellow Card scheme?
The Yellow Card is a scheme to report a suspected side effects of medication or a possible problem with a medical device. You can report side effects that aren't already listed on the patient information leaflet that comes with the medication or medical device.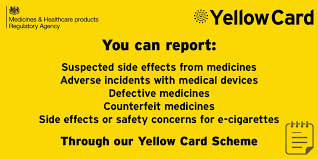 The MHRA (Medicines and Healthcare Products Regulatory Agency) has released new videos that provide online guidance to help you complete a Yellow Card report.
The videos are published on the Yellow Card website and can be found here and on MHRA'S YouTube channel:
How to report a side effect from a medicine
How to report a problem with a medical device
If you have a suspected side effect of your epilepsy medication, we encourage you to report this to the Yellow Card scheme.
More information
You can also report a side effect to the Yellow Card scheme by calling free phone: 0800 731 6789 (10am to 2pm Monday-Friday only).
Adverse incidents involving medical devices can't be reported by telephone. Please report online or by email to aic@mhra.gov.uk
If you experience issues with the site outside of these hours then please call the MHRA Customer Service Line on 0203 080 6000 (9am to 5pm Monday to Friday).