How our research team ran to fund a brand new TMS-EEG chair
A big thank you to our Director of Genomics, Professor Sanjay Sisodiya and two of his colleagues, who ran the Royal Parks Half Marathon to raise money for one of our clinics.
Neurologist Meneka Sidhu and Research Associate Katri Silvennoinen formed the Epilepsy Society Research Team with Professor Sisodiya to raise money for a new chair that is integral to a pioneering diagnostic test, TMS-EEG (transcranial magnetic stimulation with electroencephalography).
The team has recently bought the chair which cost £10,000.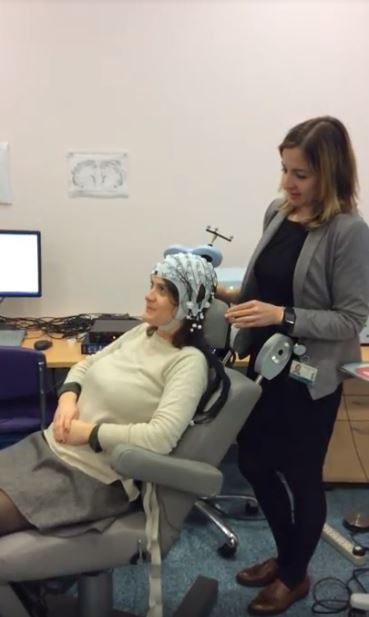 TMS is a non-invasive tool that enables us to interpret information gained through new genetic tests and build up a clearer picture of how those changes impact on the function of the brain. This can then help to guide and monitor treatment options.
TMS-EEG can often be a long procedure and the chair enables those being tested to sit comfortably throughout the duration. It will also enable the researchers to produce more accurate diagnostic results.
After the run Sanjay said: "I like to think that by pushing ourselves in training and on the day, we have helped to improve the experience for patients when they come for a TMS test. The more accurate the results we obtain, the more precise the treatment will be".
Well done to Sanjay and his team, the TMS-EEG chair will help to make a difference to many lives that are affected by epilepsy.