Iconic Joy Division concert streamed free to raise money for Epilepsy Society
Monday, 18 May, is the first day of National Epilepsy Week and, poignantly, it also marks the 40th anniversary of the death of post-punk band Joy Division's front man Ian Curtis.
The talented singer and musician lived with epilepsy and depression and, tragically, took his own life at the age of 23 in 1980.
For four decades, the band's bassist, Peter Hook 'Hooky' has kept alive the memory of his friend and ensured that his seminal music has lived on. And he has also continuously supported the Epilepsy Society, raising vital funds for the charity in the hopes that young people struggling today with epilepsy and mental well being, will be able to find the support they need.
Free concert in aid of Epilepsy Society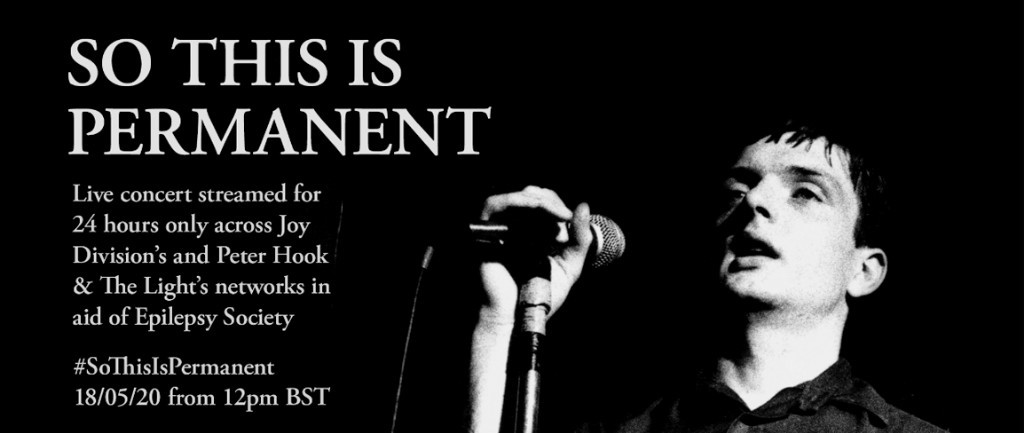 So on Monday, for 24 hours starting from 12pm, Hooky will be streaming a three-hour concert, "So This Is Permanent" online to mark the 40th anniversary of the sad death of Ian. The concert is free to enjoy through the networks of Joy Division and Peter Hook & The Light, but the bassist is asking people to make a donation to the Epilepsy Society.
 "So This Is Permanent" was originally performed by in 2015, showcasing almost the entire back catalogue of Joy Division. But only 500 fans were able to enjoy the concert held in a church in Macclesfield and performed by Peter Hook & The Light.
Now following the cancellation of two live Peter Hook & The Light gigs in London and Manchester due to the Covid-19 pandemic, Hooky is making the post-punk gold available to everyone and hoping that it will raise essential funds for the Epilepsy Society.
Anxiety and depression
Clare Pelham, Chief Executive at the Epilepsy Society, said: "This is a wonderful gesture that will not only enable Joy Division fans to see more than 40 of the band's iconic tracks performed by Peter Hook and The Light, but that will also help to fund vital support for  people with epilepsy at this critical time.
"Anxiety and depression often go hand in hand with epilepsy, particularly if someone fears having a seizure in public. And self-isolation and social distancing during the Covid-19 crisis have certainly exacerbated the situation.
"It is poignant that the concert and the anniversary of Ian's death coincide with the first day of National Epilepsy Week. We are so grateful that the generosity of Peter, his band members and the many fans of Joy Division, will mean we will be able to support people with epilepsy through our Helpline and information services.
"We are ever blown away at the charity by the lengths people go to, to turn a crisis into an opportunity. Peter is a great friend of the Epilepsy Society and we are once again very grateful of his support. It is a wonderful tribute to Ian Curtis who may still have been with us today if he had been able to access the sort of support that we are able to offer today."
The stream is entirely free, but if you'd like to give a gift to Epilepsy Society you can donate here