Medics warned to fly less for health of their patients
Three of the world's leading epilepsy specialists have warned that climate change may be damaging the health of their patients.
And they are challenging medical professionals -and themselves - to fly less for international conferences in order to reduce their carbon footprint and the impact of global warming.
The neurologists, including Professor Sanjay Sisodiya, below, Director of Genomics at Epilepsy Society, say that for some people with epilepsy, climate change can interact with biological pathways, making them more vulnerable to potentially life-threatening seizures.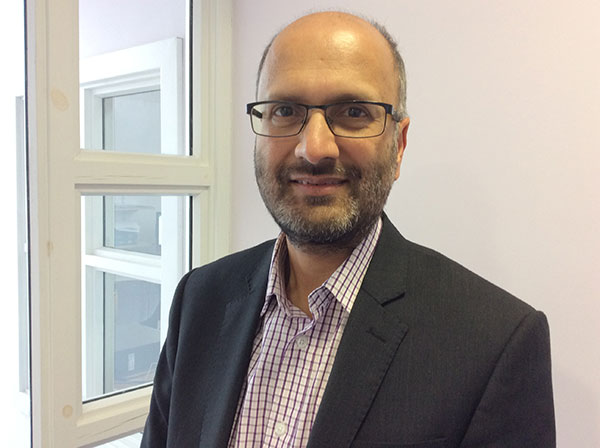 Heat waves and Dravet syndrome
Anecdotal evidence suggests that heat waves are particularly dangerous for children and adults with Dravet syndrome, a severe form of epilepsy that usually starts in childhood.
Writing in The Lancet Neurology, the neurologists* from the UK, Australia and the US, said that during the high temperatures of summer 2018, parents of children in the UK with this syndrome reported that their children were experiencing more seizures and increased lethargy.
And in Australia, a girl with Dravet syndrome who had been seizure free for two years on epilepsy medication, died after she went walking in temperatures of 46.5 degrees C.
Epilepsy Climate Change
The neurologists have formed a consortium, 'Epilepsy Climate Change', with a mission to act now as the effects of climate change manifest themselves.
Professor Sisodiya said: "As clinicians our instincts are to act on robust, scientific evidence. The evidence for changes in our climate is already strong. The link to epilepsy is not yet definite. We need research in this area, but in the case of climate change and the huge potential consequences, we must act now in response to the changes we are seeing even through anecdotal evidence or it could be too late."
Epilepsy affects around 50 million people worldwide but is disproportionately more common in low and middle income countries where the impact of climate change, from the severity and frequency of extreme events such as hurricanes and flooding, and the spread of infections, will be greatest.
And the neurologists say that people who are economically deprived are more likely to have epilepsy and reduced resilience to the effects of climate change.
Professor Sisodiya continued: "Climate change is one of a growing number of problems that affect healthcare. And it is crucial that we, as clinicians, take responsibility and find both short and long-term solutions to the problem in our own area."
Carbon emissions from air travel
The neurologists have highlighted air travel as possibly one of the biggest contributions to carbon emissions in their community. They estimate that carbon emissions due to the travel of approximately 3200 participants at a recent international epilepsy conference equalled 2000 tonnes of carbon dioxide. With 1500 medical meetings organised each year, this would result in three million tonnes of carbon dioxide, the equivalent of the annual emissions of Madagascar.
Professor Sisodiya said: "Conferences are of course important, offering the opportunity for learning, and meetings that push science forward. But we must also consider their impact on the environment and the potential damage to our patients' health.
"We need to harness technology to replicate the benefits of conferences virtually, without losing their collaborative and personal aspect.
"Until this is a reality, we must consider ways to off-set our carbon footprint. To make a real difference, we should consider reducing the number of times we fly so as to reduce our input of carbon in the atmosphere.
"We don't have time to sit back and wait while the temperature rises. We owe it to our patients and our planet to come up with effective solutions now."
*Sanjay Sisodiya is Professor of Neurology at UCL and Director of Genomics at Epilepsy Society; Professor Ingrid E Scheffer is Chair of Paediatric Neurology Research at the University of Melbourne; Professor Daniel H Lowenstein is Executive Vice Chancellor and Provost at the University of California.
Find out more
You can read more at Epilepsy Climate Change.