Next stage in genetic research brings us closer to understanding epilepsy
More than 800 DNA samples from Epilepsy Society have now been sequenced as part of Genomics England's landmark 100,000 Genomes Project. This means our researchers, bioinformaticians and clinicians are at the exciting stage of being able to analyse the new data, bringing hope of groundbreaking results in the diagnosis, treatment and understanding of epilepsy.
Epilepsy Society is undertaking a pioneering  genomics research programme in partnership with UCL and UCLH. The exciting translational research programme aims to sequence and analyse  5,000 genomes in total of people with epilepsy.
We hope this will help us to understand more about the role that genes play in epilepsy, how a person is likely to respond to different drugs and what their risks are for developing other health problems. We also hope to be able to identify and reduce the risks for Sudden Unexpected Death in Epilepsy.
100,000 goal reached
The Department of Health and Social Care last week announced that it had reached its goal of sequencing 100,000 genomes from NHS patients with cancer and rare diseases such as epilepsy.
By being part of this exciting initiative, our researchers at Epilepsy Society are now beginning to interpret data from people affected by epilepsy, alongside each person's phenotype including their health and the history of their epilepsy.
Our initial focus is people with severe epilepsy characterised by uncontrolled seizures and other issues such as learning disabilities. This is because in the more extreme forms of epilepsy, it can be easier to pinpoint the malfunctioning genes. In less severe epilepsies, it can be more challenging to pick out the genetic variants causing the seizures.
Three billion letters
Whole genome sequencing means that we read all three billion letters in a person's DNA. This can provide a huge amount of information so we also need other tools to help us interpret the data.
That is why our researchers are using a genomics toolkit of techniques to make sense of the genomic data that we are seeing. This includes : Transcranial Magnetic Stimulation; Optical Coherence Tomography; and 3-dimensional Stereophotogrammetry .These help researchers look at the genetic contribution to epilepsy through the brain, the eyes and the face.
Professor Sanjay Sisodiya, Director of Genomics at Epilepsy Society, describes genomics as "a key tool that is missing in our toolkit as we try to understand the causes of epilepsy and improve diagnosis and treatment of the condition."
" My hope is that the whole genome sequencing will eventually be life-changing for people with epilepsy," he said.
Transcranical Magnetic Stimulation (TMS),
Optical Coherence Tomography (OCT) and
3-D Stereophotogrammetry (TDS).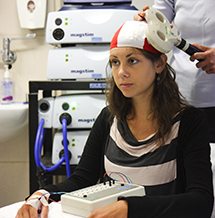 Genomics England
The 100,000 Genomes Project is led by Genomics England and NHS England.
Since the project was launched in 2012, it has delivered life-changing results for patients who have had their genomes sequenced, with one in four patients with a rare disease receiving a diagnosis for the first time.
Thirteen NHS Genomic Medicine Centres were created to support the project, along with a state-of-the-art sequencing centre and an automated analytics platform to return genome analyses to the NHS.
The UK is the first nation to apply whole genome sequencing at scale. Genomics can enable doctors to identify those at risk of disease, help to prevent it and provide personalised treatments for the best chance of recovery.
Matt Hancock comments
The Health Secretary, Matt Hancock, announced the launch of the NHS Genomic Medicine Service in October. This will see all seriously ill children and adults with rare diseases or cancers offered whole genome sequencing as part of their care from 2019.
Matt Hancock said: "Sequencing the 100,000th genome is a major milestone in the route to the healthcare of the future. Understanding the human code on such a scale is part of our mission to provide truly personalised care to help patients live longer, healthier and happier lives.
"I'm incredibly excited about the potential of this type of technology to unlock the next generation of treatments, diagnose diseases earlier, save lives and enable patients to take greater control of their own health."