Peter Hook to perform anniversary concerts in celebration of Joy Division and donate to Epilepsy Society
Peter Hook has recently announced two special concerts with his band, The Light, to perform 'Joy Division: A Celebration' to commemorate four decades of the group's and Ian Curtis' continuing influence.
The shows will take place at the O2 Academy Brixtion and O2 Apollo Manchester on Friday 15 and Saturday 16 May 2020.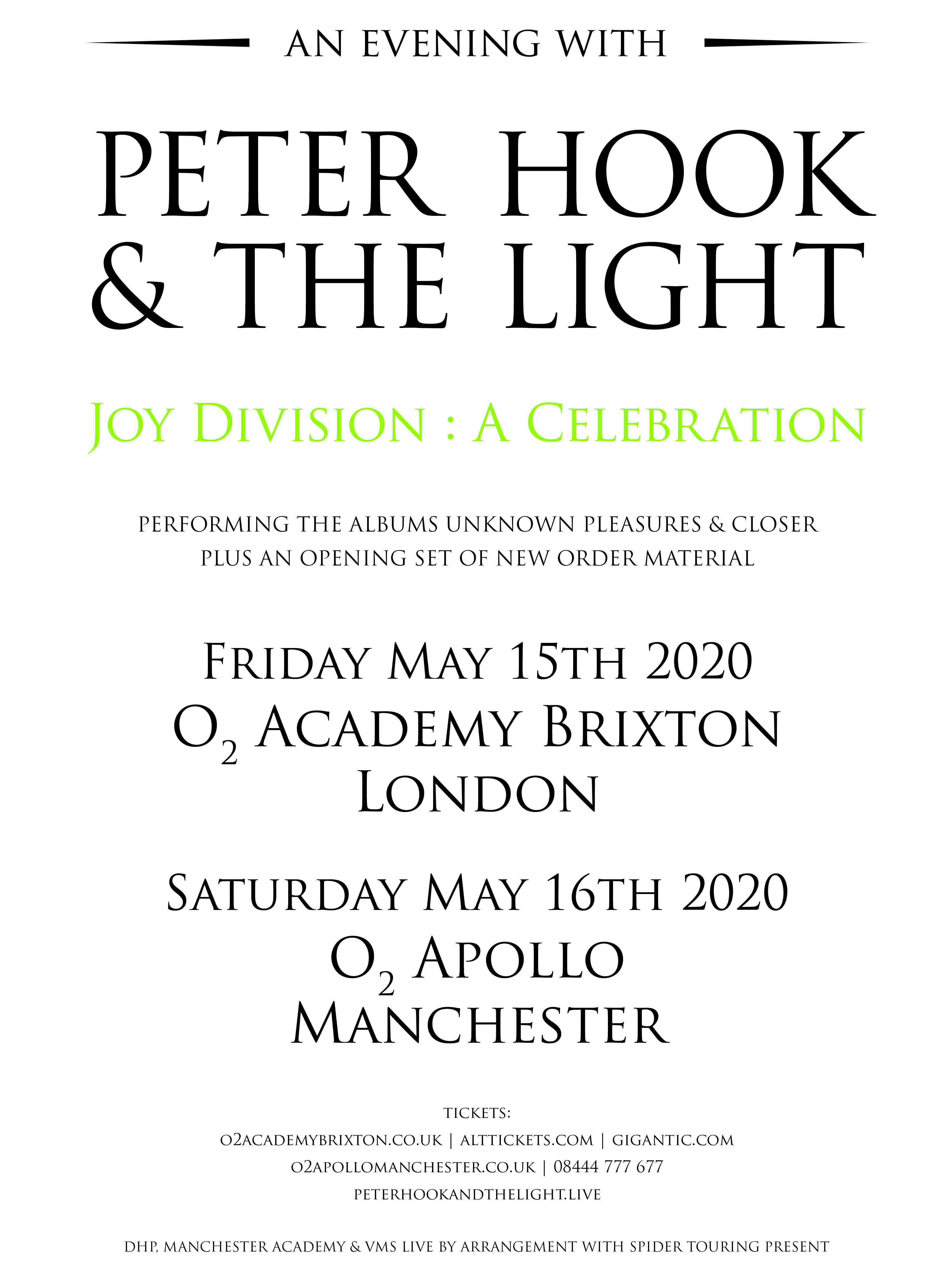 Performing for the first time in the UK since their sold out Camden Roundhouse show in December 2017, both concerts see them play "Unknown Pleasures" and "Closer" in full, along with an opening set of New Order material.
These Joy Division album shows have become much less common for The Light as they move through their progression of touring the New Order albums in succession since 2012.
Aside from some one-off gigs such as The Roxy in LA and Manchester Academy, these are the first major shows to be announced for this set in some years.
In addition to coming some 44 years since Joy Division formed, these gigs also mark 10 years since The Light began at The Factory in Manchester on 18th May 2010. That journey has seen them now perform 11 of both his bands' albums all round the world including numerous tours of North and South America, Australia, New Zealand and the Far East.
A portion of the proceeds from the shows will be donated to Epilepsy Society and CALM (Campaign Against Living Miserably).
Peter Hook at the Royal Albert Hall, 29 Sept 2018. Photo credit: Jody Hartley.
The influence of Joy Division and their music remains strong in popular culture, holding a sincere reverence.  The albums are played in track order, respecting the inspiration and impact of the stunning debut album "Unknown Pleasures" and the immaculately produced second "Closer".
"Unknown Pleasures" features "Disorder"  "Insight", "New Dawn Fades", and "She's Lost Control" while "Closer", considered "a start to finish masterpiece" by Pitchfork Media, counts "Atrocity Exhibition", "Heart And Soul" and "Twenty Four Hours" In addition to the albums, the Brixton and Manchester May 2020 concerts will span the entirety of Joy Division's rich but short career including early Warsaw material, tracks from the compilation LP "Still" to the final songs "Ceremony" and "In a Lonely Place" written by Joy Division which were to form New Order's first single.
We'd like to thank Hooky for performing these concerts in aid of us
More information:
Tickets for the performances are currently on sale.
To purchase the tickets, please go to:
Brixton – http://bit.ly/TheLightAcademyBrixtonMay2020
Manchester - http://bit.ly/TheLightApolloMCRMay2020
On "Unknown Pleasures" – The Album (NME)
"The band's debut 'Unknown Pleasures' is simply one of the best records ever made, and is still powerful enough to floor you 30 years on. With an almost dub-like, spacey atmosphere sculpted by studio genius Martin Hannett, the band's sound was almost the polar opposite of the punk music which had brought them together after a Sex Pistols show in 1976." 10/10
On "Closer" – The Album (Pitchfork Media)
"Closer is even more austere, more claustrophobic, more inventive, more beautiful, and more haunting than its predecessor. It's also Joy Division's start-to-finish masterpiece, a flawless encapsulation of everything the group sought to achieve" 10 / 10.
Website: peterhookandthelight.live
For videos and concert footage from The Light, please go to: www.youtube.com/peterhookandthelight
Facebook: www.facebook.com/peterhookandthelight
Twitter: www.twitter.com/peterhook
Instagram: www.instagram.com/peterhook_thelight