PM and Sec of State promise action over targeting of people with epilepsy online
Prime Minister Boris Johnson and his Secretary of State Oliver Dowden have promised that action will be taken to address the issue of internet trolls sending malicious tweets to trigger seizures in people with epilepsy.
The Prime Minister wrote to Oliver Dowden, Secretary of State for Digital, Culture, Media and Sport after his constituent, Tracy Cousins, drew his attention to Epilepsy Society's campaign to safeguard people with photosensitive epilepsy online.
The charity and many of its followers have been targeted with more than a thousand GIFs and flashing images sent specifically to provoke seizures and cause physical harm.
Several people have reported seizures as a result of the co-ordinated attack, including a newly diagnosed 25-year old man who was left traumatised after flashing images triggered a massive seizure.
Oliver Dowden's response
Oliver Dowden told the Prime Minister: "There has been a worrying rise in the amount of on line abuse, much of which happens on social media. The abuse you have highlighted is unacceptable and, as Ms Cousins points out, can have a significant impact on victims.
"It is important to make sure that the criminal law is fit for purpose to deal with online harms. My department and the Ministry of Justice have engaged the Law Commission on a second phase of their review of abusive and offensive on line communications.
"This will include considering whether co-ordinated harassment by groups of people online could be more effectively dealt with by the criminal law, whether it is targeted at individuals with epilepsy or others.
"The Law Commission will review existing communications offences and make specific recommendations about options for reform, to ensure that criminal law provides consistent and effective protection against such behaviour."
Independent regulator
Mr Dowden assured the Prime Minister that the Government would introduce world leading legislation to make the UK the safest place to be online. This would include a new duty of care for online companies towards their users, overseen by an independent regulator.
He also pointed out that, alongside its Online Harms White Paper, the Government had published a Social Media Code of Practice setting out actions that the Government believes social media platforms should take to prevent bullying, insulting, intimidating and humiliating behaviours on their sites."
Boris Johnson told his constituent, Tracy Cousins: "I will continue to monitor this issue closely ahead of the publication of detailed proposals later this year. "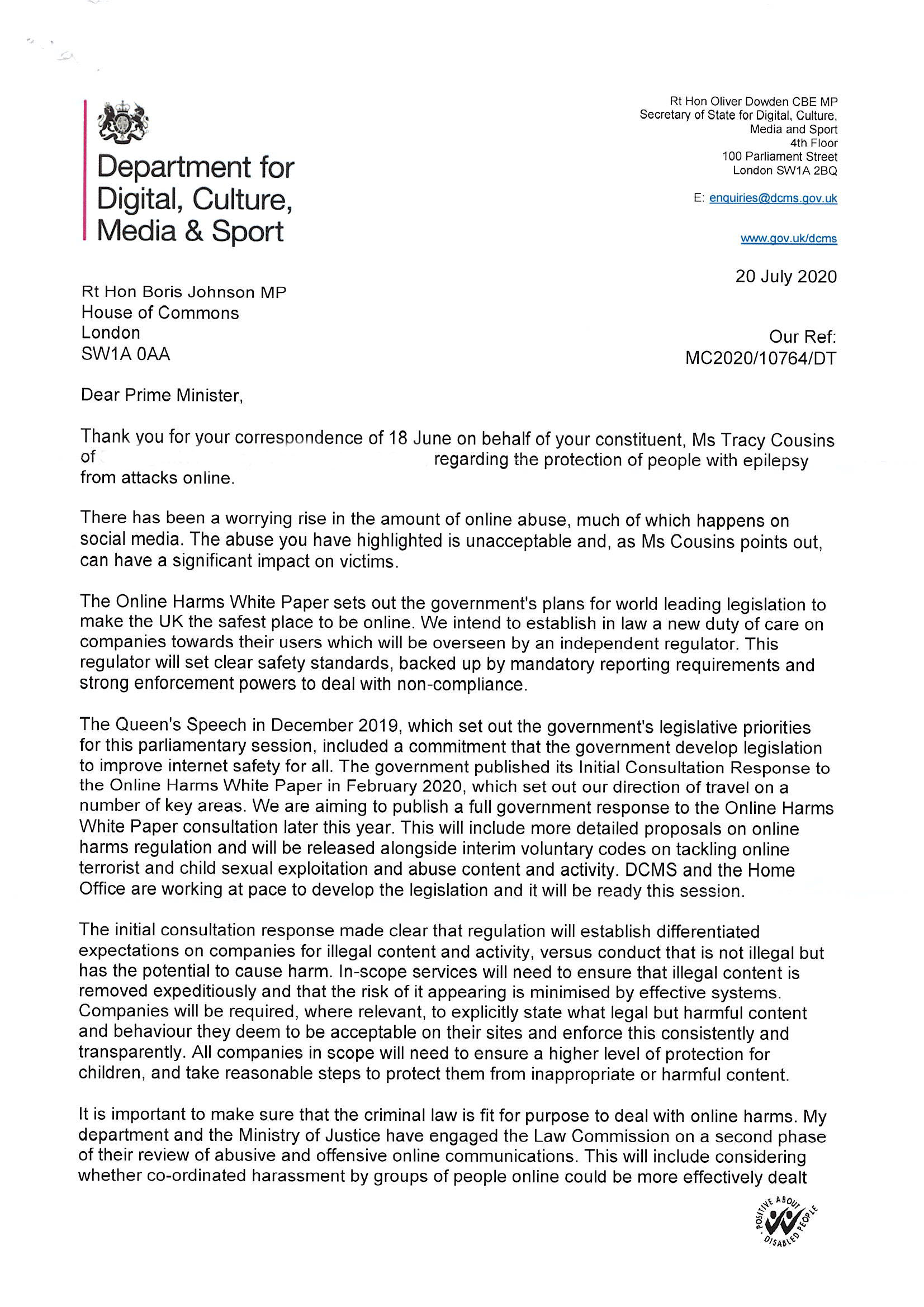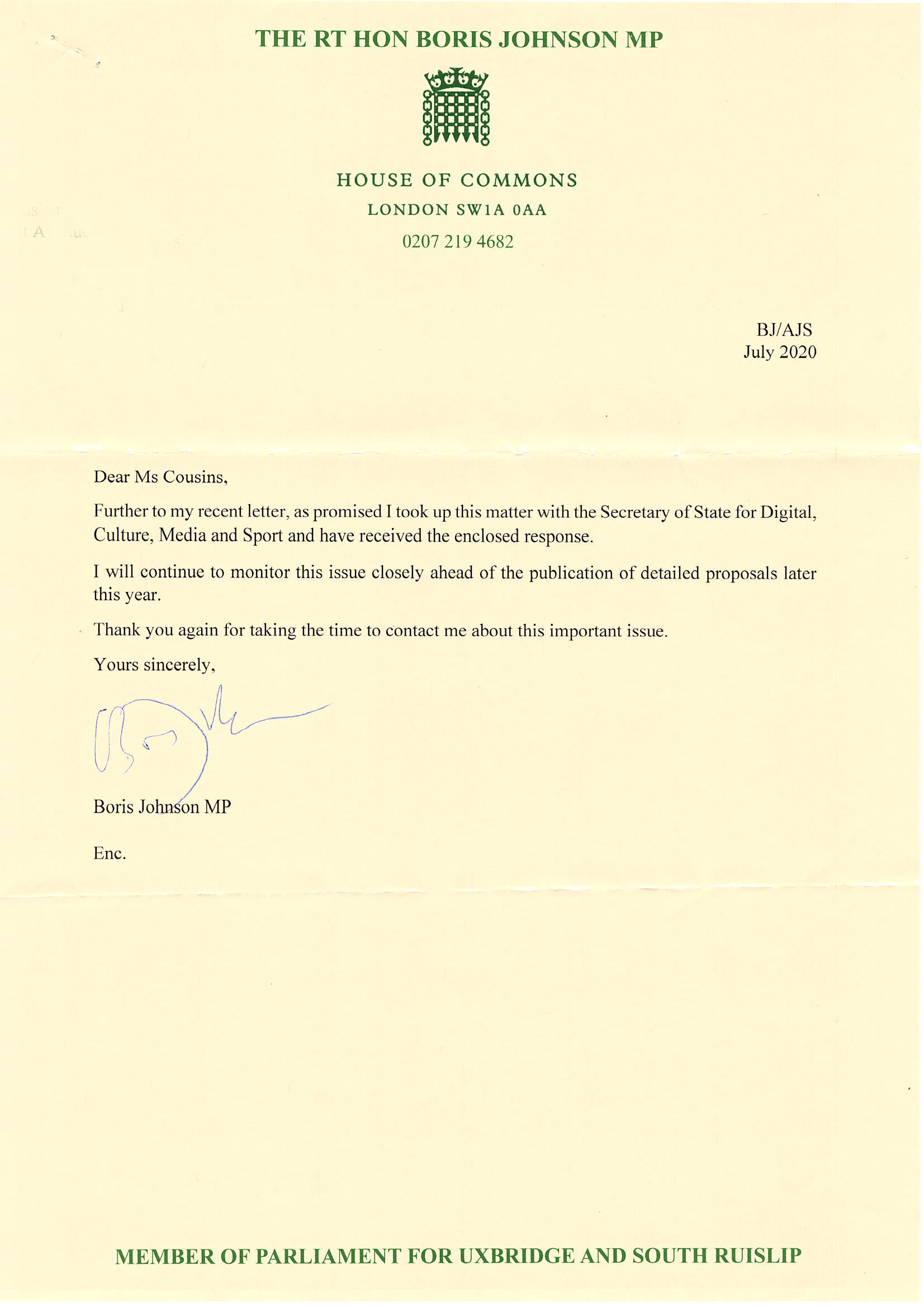 Epilepsy Society responds
Nicola Swanborough, Acting Head of External Affairs, said: "It is encouraging that the Government is taking this issue seriously and has condemned this vile abuse which can result in serious injury.
"Prior to the launch of Twitter, the deliberate targeting of people with epilepsy to cause physical harm would not have been possible. Social media has opened a window for an unimaginable crime that turns communication tools into weapons targeting those with a disability.
"The Malicious Communications Act 1988 pre-dates Twitter by almost 20 years and is not fit for addressing this 21st century abuse. Which is why it is imperative that the Government's new Online Harms Bill brings this army of hidden criminals within the reach of the law. And Twitter, themselves, must recognise they have a duty of care to all users of their platform, including people with epilepsy."
Zach's Law
Epilepsy Society is calling for the introduction of  Zach's Law* as part of its Online Harms Bill.  It is asking the Government to:
Instruct the Crown Prosecution Service to give guidance on how best this behaviour can be prosecuted
Clarify the criminal law by making this behaviour a specific criminal offence
Include this behaviour within the definition of an "online harm" in the Online Harms Bill later this year. This will require social media companies to clamp down on its spread on their platforms.
Join Epilepsy Society's campaign
You can join Epilepsy Society's campaign to safeguard people with epilepsy online, by writing to your MP. You can find all the details here.
Tracy Cousins, who wrote to Boris Johnson, said: "It took me five minutes to write my original letter to Boris Johnson. I cannot believe just how effective a simple letter can be in raising an issue at Government level. I would urge everyone to email their own MP now and help Epilepsy Society to beat these internet trolls."
*Zach's Law is named after nine-year-old Zach Eagling who has epilepsy and cerebral palsy. Zach was targeted by trolls on Twitter when his mum, Claire Keer, shared updates about his fundraising challenge.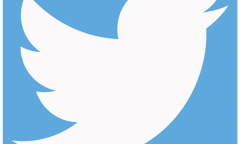 UK charity sees worst ever cyber bullying attack on Twitter as eight-year-old boy with epilepsy and cerebral palsy is targeted.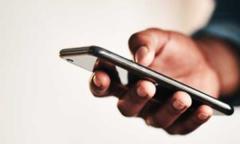 Twitter have taken the decision to ban three key search terms, 'epileptic, photosensitive and photosensitivity' from its GIF search function, after internet trolls persistently used them to access flashing images with the intent of triggering seizures in people with epilepsy.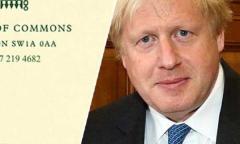 Prime Minister Boris Johnson has made a firm commitment to raise our concerns about malicious tweets designed to provoke seizures in people with photosensitive epilepsy, with Secretary of State for Digital, Culture, Media and Sport, Oliver Dowden.