Woman suffers horrific injuries due to falling during a seizure
Almost eight months ago, Natasha McQuinn, 30, collapsed at home onto a boiling hot radiator during a seizure and burnt all of her back.
Now, she is too scared to bath or shower alone, and too terrified to cook or leave the house by herself.
Natasha said: "I sold my story to newspapers such as the Daily Mirror and the Sun, to raise awareness about home dangers if you have epilepsy. I would also like to know if anybody else has ever suffered with their epilepsy like this."
Her accident
Writing in the Sun, Natasha says: "I was slumped naked and wet against it because I'd just had a shower and fallen backwards."
 "I had just got out of the shower and I was standing near the radiator with a towel.
"Next thing I know I woke up against the radiator - slumped against it with no memory.
"I had fallen backwards by the look of it.
"When I woke I could smell burning flesh and my skin was like melted chewing gum, all stretchy and gooey."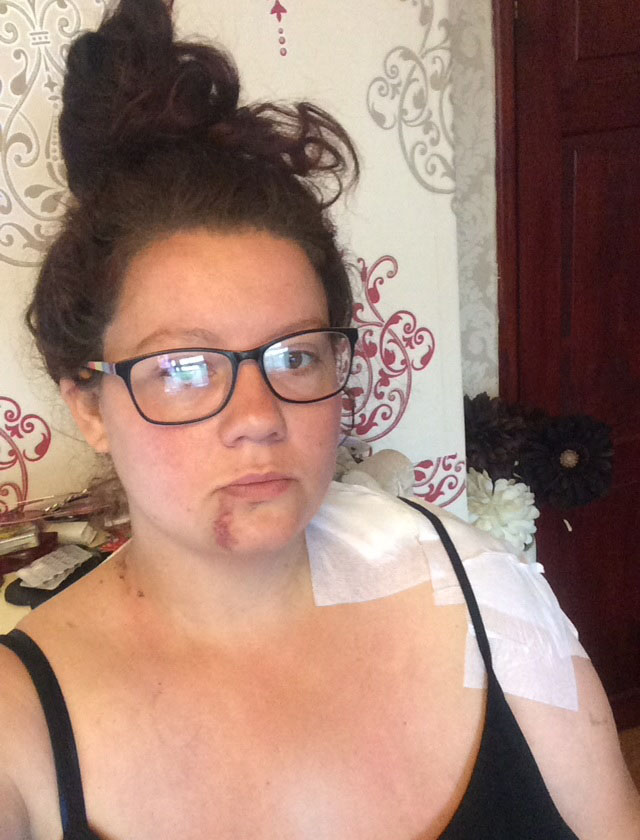 She said she didn't feel pain immediately – later told by doctors this was because she had burnt her nerve endings.
Natasha, who lives in West Yorkshire, said she immediately called a taxi to go to hospital, but was confused as she arrived.
Problems with her memory
She said: "After seizures I have problems with my memory so I didn't know my name or date of birth. It's like having temporary Alzheimer's."
"They looked at the burn straight away and said by the look of it, I had a five minute seizure against the red hot radiator and then was unconscious for 30 minutes."
Her back is only just beginning to heal as graphic photos depict her blistered skin on her back and shoulders after she suffered third degree burns.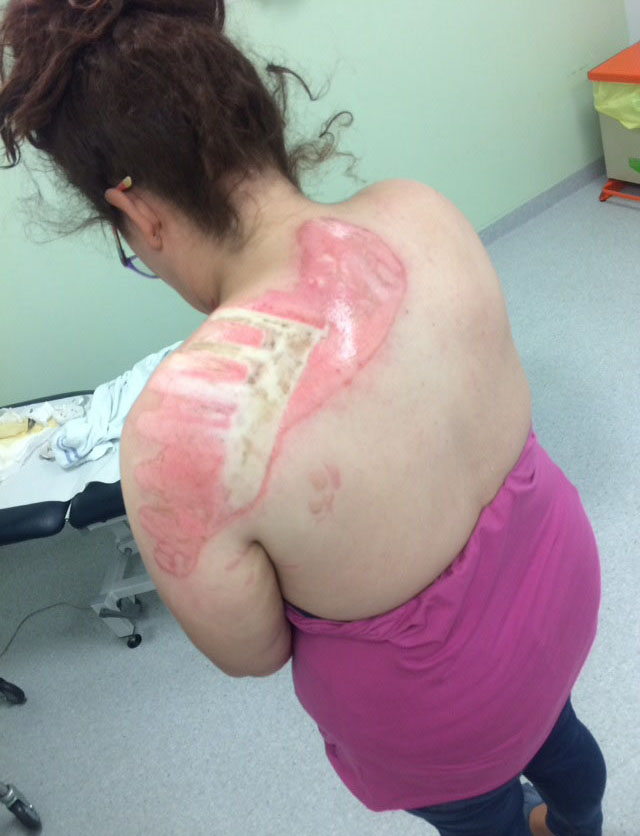 About her epilepsy
Natasha, who is an office clerk, has juvenile myoclonic and catamenial epilepsy. She has the most severe type of seizures around her menstrual cycle and can have several tonic-clonic seizures a day.
She said she started having seizures when she was 21, which were often triggered by hormones or heat. Talking to the Mirror Online, she said: "I've lost count of all the times I've smashed my head, nose or lip open. But this injury was the worst so far".
Natasha said she felt depressed and defeated. At one point, she was contemplating ending her life.
"The past nine years has been hell and everyday is a struggle" she admits. She lives alone and wants to improve her quality of life.
However, she says she is struggling to regain her independence after the traumatic incident.
Plea for help
Now, she is pleading with doctors for a hysterectomy in a bid to stop the seizures that are connected to hormone changes.
She took some progress pictures over the course of a few months to show the slow and painful progress after she had a skin graft.
She has also been featured on Heart FM, where they interviewed her about her accident.
Natasha is due to be featured in 'Real People' magazine over the next few weeks, which features her tragic story.
She has donated her fee of £100 from the magazine to us, which we are very grateful for.
We wish Natasha a speedy recovery and hope that she can soon be seizure free.
More information
To read more about Natasha's story in The Mirror and The Sun, please click on the links.
If you need support
If you are struggling to cope or need someone to talk to, our confidential helpline offers information and emotional support for anyone affected by epilepsy. Their number is 01494 601 400 or you can email them at helpline@epilepsysociety.org.uk (open Mon & Tues 9-4pm and Weds 9-7.30pm).
If you need support outside of these hours, please contact Samaritans on 116 123.