Lockdown: inside story- Joshua King
In our new series, Lockdown: Inside story, freelance journalist Joshua King talks about changes to his work and the challenge of working in a flat which feels crowded.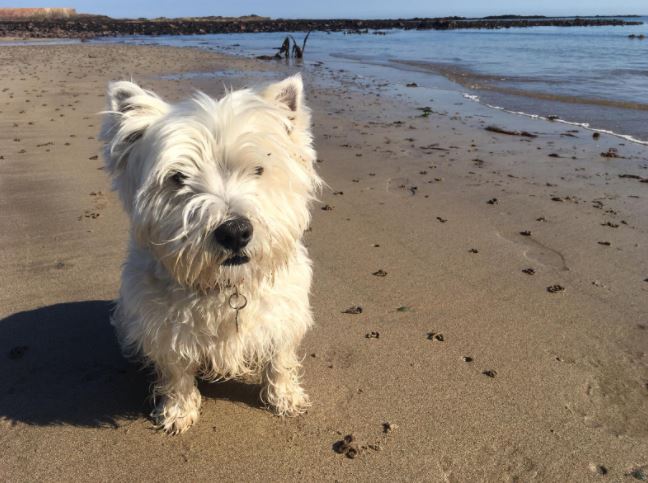 Working from home is nothing new for me. As a freelance journalist, the majority of my time was spent at the table writing already. But lockdown has shaken up life in a big way. I live in East Lothian with my wife, Rebecca, and our dog, Harris. Daily life in our flat has become a little crowded. We're more fortunate than many though - Dunbar's a beautiful seaside town and we've been able to get out to walk the dog.
New normal
But I've lost a lot of work. With newspapers, magazines and websites across the country furloughing staff, there's little budget to pay freelancers. The government's self-employed grant will go some way to covering our losses but it'll be a lean few months. Beyond financial anxiety and isolation from loved ones, the biggest worry I'm facing is how lockdown may affect my epilepsy.
Running low
For me, when it comes to #clapforourcarers nights, I'm mindful not only of their incredible dedication during the outbreak but also all the support I've had over the years. My condition is under control with medication and I've been seizure-free for around eight years. But for that to continue I need to take medication every single day.
In the early days of lockdown - all those weeks ago - I was anxious whether I'd even be able to get hold of those drugs. There were so many unanswered questions - would we run out of food? Could we top up our gas and electricity? And, for me, would I run out of medication? Fortunately the GP surgery and pharmacies here in Dunbar have been great. Their advice has been clear, concise and my fears of shortages never materialised. 
Wrong conditions
But while medication is a huge part of keeping seizures under control, anyone living with epilepsy will know that lifestyle factors play their part too. For me, seizures were at their worst while I was at university. They were happening when I was alone, when I was with friends, when I was on the bus, when I was at work. I can't remember how many trips to A&E I made; how many photos from that time show cuts and bruises on my face.
It was a low moment because student life brought with it the wrong conditions: I was stressed and drinking alcohol like students do. I had a bad diet. I was up all night. All the seizure risk factors doctors tell you to avoid. When lockdown kicked in, I was determined to stop those conditions rearing their head again. No drinking during lockdown, I decided. A healthier diet. Daily bikes rides. Sleep has been a challenge - I don't think I'm the only person who's having restless nights - but I've tried my damnedest to take care of myself.
Making the best of things
Social media has made a big difference. Organisations like the Epilepsy Society have been quick to post the latest NHS epilepsy guidance online and that's given me a lot of confidence. And most importantly of all, I have my wife beside me.
We've done our best to make the new normal work for us. Always fans of games, we've spent much of our spare time playing Dungeons & Dragons with mates online. A lot of them are key workers: doctors, teachers, psychologists, police officers. What better way to escape the anxiety of the real world than jumping into an imaginary world of swords and sorcery? Family pub quizzes on Zoom have become a big thing too. A big, competitive thing. I'm still seething over last week's missed answers.
Yes, work has been hard. Isolation is a challenge. And the ever-present threat of a seizure, albeit unlikely, has been thrown into sharp relief by lockdown. But, ultimately, we're doing okay here in Dunbar. We have our health and one another. The best we can do is take care of ourselves, stay at home and be there to support those working on the frontline against this terrible virus.
Joshua is a freelance journalist who has written about news and culture for The Times, The Scotsman, The Big Issue, and Tabletop Gaming. He can be found tweeting at @JoshKingWrites.