Daily Express backs our #ZachsLaw campaign
We are thrilled to see that the Daily Express is today (19 February 2021) backing our Zach's Law campaign to bring to justice internet trolls who send flashing images to trigger seizures in people with epilepsy.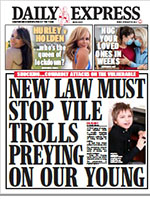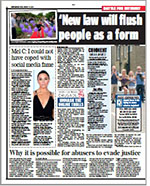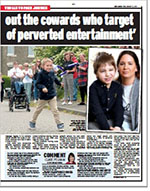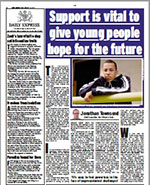 Read the full story (opens in pdf)
Richard Madeley calls for trolls to be prosecuted in the Daily Express.
#ZachsLaw has been an ongoing campaign for the charity since May last year when Zach Eagling, then eight years old, was targeted by an organised gang of trolls as he was walking 2.6km around his backyard unaided, to raise money for us. Zach has cerebral palsy and epilepsy.
As well as targeting Zach, the trolls sent seizure-inducing posts to the Epilepsy Society Twitter account and many of our supporters, using hashtags that would widen their reach to include anyone who searched for common epilepsy terms.
Several people around the world experienced seizures on account of the attacks. The attacks are still continuing.
Online Harms Bill
Epilepsy Society is campaigning for this type of abuse to be recognised within the government's Online Harms Bill and for perpetrators of these crimes to be brought to justice. It is also calling for Ofcom to impose heavy financial penalties on social media giants that allow this abuse to continue.
Nicola Swanborough, Head of External Affairs at the Epilepsy Society said: "The Express has a long history of campaigning and we are delighted that they have got behind this important campaign. Social media companies have got a strong grip on all our lives, largely through sophisticated technology and algorithms which defy the normal boundaries of communication. 
"But they are slow to the point of inactive when it comes to using their expertise to protect people from harm. They want us all to come out to play, but they won't step in to deal with the bullies.
"It is criminal that so much of our valuable time and resource is spent monitoring the social media platforms to protect our supporters. It is time and money that should be focused on research.
"The law and regulation must combine to stop the trolls and force the social media companies to take responsibility."
Law Commission
The Law Commission has been working with the Epilepsy Society to address the issue and is recommending changes to The Malicious Communications Act 1988 and the Communications Act 2003 which would criminalise behaviour where a communication is likely to cause harm.
Supporting Zach
Donate to Zach's Just Giving page. Your donation will help to support our work to safeguard people with epilepsy from online harms.