Epilepsy Society launches new first aid campaign after young man has seizure on escalator
When 28-year-old Sean Hamilton had a seizure on an escalator at London Underground, it was only the quick reactions of his dad, Vic, that stopped him falling on to other commuters at the busy tube station.
Sean has epilepsy and his frequent seizures mean he cannot go anywhere without his dad. He was half way up the escalator at North Greenwich tube station when he had a major seizure and started tumbling backwards.
Only quick-thinking Vic managed to save his son and other commuters by grabbing hold of Sean before he fell on top of people travelling behind him on the escalator.
You can watch Sean's seizure below.
Raising awareness
Now the Epilepsy Society is launching a new campaign with Sean to raise awareness of seizure first aid and to make sure that everyone is #seizuresavvy.
Chief Executive at Epilepsy Society Clare Pelham said: "Transport for London shared the CCTV footage of the seizure with Sean so that he could draw people's attention to just how serious a seizure could be.
"Our research shows that two out of every three people in the UK who do not have a family member with epilepsy, would not know how to help someone during a seizure*. So we are working with Sean to educate people about what to do in an emergency if they see someone having a seizure."
Calm, Cushion, Call
The charity's new campaign gives people three simple but key instructions to remember in an emergency: "Calm, Cushion, Call."
Stay CALM and stay with the person who is having a seizure.
CUSHION their head with a coat or cardigan to stop them injuring themselves.
CALL for an ambulance if the seizure does not stop after five minutes.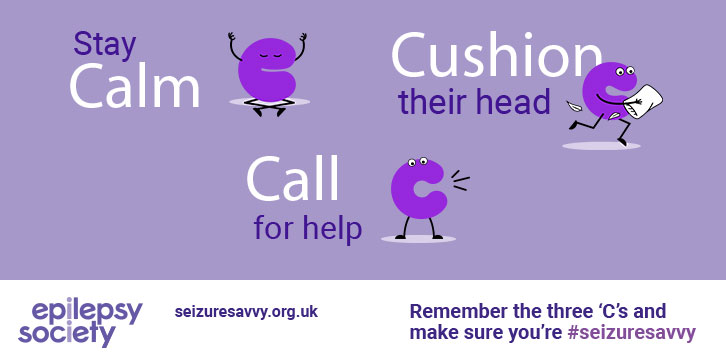 Most seizures will stop of their own accord within a couple of minutes and the person may not need an ambulance. However, the "Calm, Cushion, Call" campaign is designed to help people cope in an emergency.
Clare Pelham continued: "We are very aware that if you encounter someone having a seizure in public, you won't know their medical history, or indeed if it is an epileptic seizure.
"It is a natural instinct to try to do the very best that you can for that person and call for medical help. We hope that the three "Cs" – Calm, Cushion, Call - will stick in people's minds and be easy to recall should the need arise.
"We also want to relieve the burden on our hard-pressed NHS. Not every seizure requires an ambulance. We hope that people with epilepsy will be able to rely on the kindness of strangers who are #seizuresavvy."
Being a helping hand
Sean said: "Because I have so many seizures every day my dad always comes out with me and he is there to help. But many people with uncontrolled seizures don't know whether they will have a seizure when they are at work or out in a public place.
"It will really help them to know that if a seizure strikes, the people around them will not panic but will be able to help."
Sean's dad, Vic added: "Remembering the three 'Cs' means you would be able to help someone like my son when they are having a seizure. As a parent, that means everything to me."
More information
More detailed first aid relating to convulsive (tonic clonic) seizures and other types of seizures can be found here.
*These were the findings of a YouGov poll of more than 2,000 UK residents, carried out during National Epilepsy Week 2017. The poll was commissioned by Epilepsy Society and Young Epilepsy.