Safeguard people with photosensitive epilepsy online, Epilepsy Society tells Government
Epilepsy Society has once again called on the Government to safeguard people with photosensitive epilepsy online, by including them in their Online Harms Bill.
Speaking on BBC Radio 4's flagship news programme, Today, the charity's Chief Executive Clare Pelham said that the targeting of people who are photosensitive, by sending them flashing images designed to deliberately provoke a seizure, was both common and increasing.
Clare Pelham on BBC Radio 4 Today:
"Scarcely a week goes by at Epilepsy Society without  us seeing one or more hate-filled messages, sent deliberately to provoke a seizure," she said.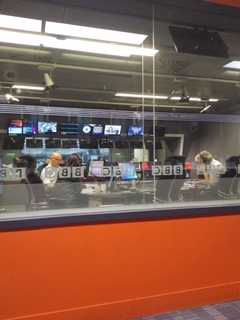 "I hope you have a fit"
Aden Hallam from South Derbyshire, who has epilepsy, told listeners how he had been deliberately targeted with a Gif containing flashing imagery and the message: "I hope you have a fit, you Tory rat."
"It was not the nicest message to receive," he said. "I was shocked and upset. I am in contact with a lot of people with epilepsy, and many of them have received similar messages."
Hate crime
Clare Pelham said that attacks such as the image sent to Aden, were "a hate crime".
"The real problem in trying to put an end to this is that there is a certain amount of delay and uncertainty in bringing these people to book. It is the view of the Epilepsy Society that this is an assault.
"The Government could issue guidance to the Crown Prosecution Service tomorrow to say this (action) falls within the law and could be prosecuted. They could require social media companies to provide evidence to make those prosecutions successful.
Online Harms Bill
"Secondly, by including it in the Online Harms Bill that was announced by the Government in the Queen's Speech, there would be an absolute mechanism to stop it.  By imposing a levy on social media companies, they could fund research and we could develop algorithms to prevent transmission of this material and stop it at source."
Clare said that the charity was contacted by many people who received targeted flashing images, but though they reported them to the social media companies, they were met with a 'a deafening silence.'
"This is why the Government needs to take action," she continued. "If they made a very clear statement by including this in the Online Harms Bill, I think the social media companies would spring into action."
Cyber attack in US
Last month, hackers in the US send videos and images of blinking strobe lights to Epilepsy Foundation's Twitter followers in what has been described as 'a terrifying cyber attack."