Epilepsy Care Pathway
A clear care pathway to show you what to do from the first seizure to referrals and reviews.
1. After a first seizure, either go to A&E for an initial examination and history taking OR visit your GP (go to 2.).
If gone to A&E first, you will be referred to your GP if it is deemed necessary (go to 2.)
2. See your GP: if GP suspects epilepsy, referral to hospital to see neurologist (preferably with interest in epilepsy) within 2 weeks* (go to 3.).
3. Hospital appointment with neurologist: medical history and referral for tests within 4 weeks. Bring a witness or recording of seizure on a camcorder or mobile phone if possible. Tests could include MRI scan, EEG, blood tests or appropriate tests with relevant specialist (go to 4.).
4. Diagnosis of epilepsy and possibly seizure type: discussion between specialist, patient and possibly family member or friend about treatment, safety and risks and relevant information. Initial treatment for most people begins with taking a single anti-epileptic drug (AED), starting on a low dose which may be gradually increased until the most effective dose is found. If seizures continue, an alternative AED may be tried. If seizures are not controlled, another drug may be added (go to 5.).
5. Time to think: discuss individual needs, lifestyle issues such as driving, employment, pregnancy. Talk to a volunteer at clinic or Epilepsy Society Helpline*◊ (go to 6.).
6. Initial treatment plan: discuss choices of AEDs and possible side effects. Advice on what to do if seizures continue or if you are concerned about side effects (go to 7.).
7. Taking the treatment and monitoring the outcome: keeping a seizure diary◊.
Further treatment: alternative AEDs may be considered but if these are not working other forms of treatment may be discussed. These could include: specialist diet, brain surgery, vagus nerve stimulation (VNS), deep brain stimulation (DBS), emergency medication and supportive therapies (psychology for memory and occupational therapy for daily living issues)*
If seizures controlled and getting on well with AEDs, go to 8.OR If seizures not controlled or concerns over side effects, go to 9.OR If seizures continue in spite of trying different drugs, go to 11.ORIf prolonged or repeated seizures/status epilepticus, go to 10.
8. Annual review with GP or referral back to specialist if other conditions diagnosed or need for specialist advice such as pre-conceptual counselling.
9. Refer back to specialist to try alternative AED or treatment◊ until you've maintained optimum seizure control with minimum side effects and a review of treatment. If seizure control not yet obtained, go to 11. 
10. Emergency treatment in hospital or community.
11. Referral to epilepsy specialist centre. More investigations and tests such as video telemetry, MRI. Explore other treatment options (revisit Further treatment section above). Either optimum seizure control with minimum side effects has been maintained, with a review of treatment, OR if not, a diagnosis of nonepileptic seizures will be made, with referral to alternative specialist centre.
Key * = ask for information about epilepsy. Go to epilepsysociety.org.uk ◊ = chat through concerns with a specialist epilepsy nurse
Our document, Care and treatment: your rights and choices explains your rights and the services that you can expect as someone with epilepsy.
Managing your treatment is an important part of managing your epilepsy, and seeing whether your medication is working. This might include having a care plan, including a treatment plan.
The decision whether to start taking anti-epileptic drugs (AEDs) can be difficult, and there is a lot to think about. Here we look at the benefits and risks of taking, or not taking, AEDs.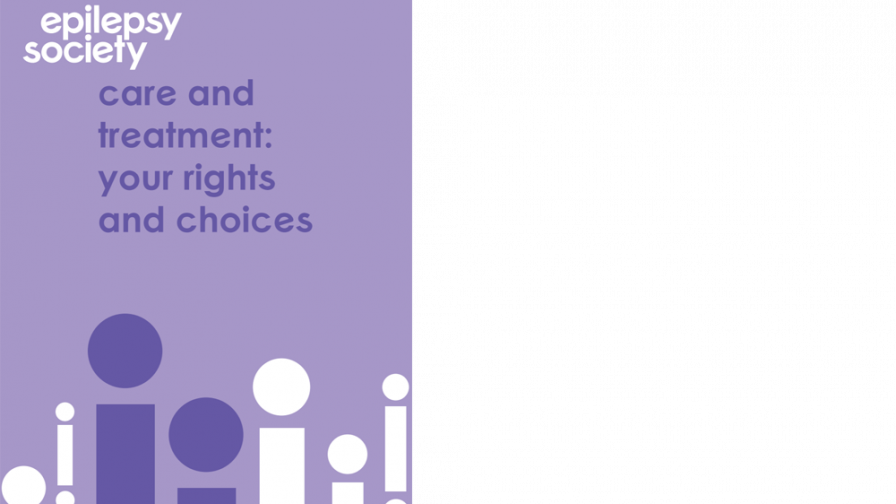 Get a copy of Care and treatment: your rights and choices
Download Care and treatment: your rights and choices.
Alternatively, our quick guide Care and treatment: your rights and choices summarises the key points.