Review looks at risks associated with epilepsy drugs during pregnancy
A new review has been published looking at risks associated with the most commonly prescribed anti-epileptic medications during pregnancy.
The review has been carried out by the Commission on Human Medicines (CHM) and follows the widely publicised risks posed by valproate for any baby exposed to the medication in the womb.
Up to 40 per cent of babies exposed to valproate during pregnancy are born with a physical birth abnormality or neurodevelopmental disability. For this reason, no woman should be prescribed valproate without being part of the pregnancy prevention programme.
Other epilepsy drugs
But the review has shown that other commonly prescribed epilepsy drugs can also carry an increased risk factor during pregnancy and the CHM is urging all prescribers to discuss these risks with women as part of their annual review and to refer any woman who is planning to start a family to a specialist to discuss their treatment options.
The review, published by the Medicines and Healthcare products Regulatory Agency (MHRA), aims to ensure that information available to girls and women who require epilepsy treatment, is based on the most up-to-date information.
The key findings of the review outlined in a safety leaflet "Epilepsy medicines and pregnancy" from the MHRA are:
• Lamotrigine (brand name Lamictal) and levetiracetam (brand name Keppra) are safer to use during pregnancy than other epilepsy medicines. Information shows that they do not increase the risk of physical birth abnormalities compared with the general population
• Carbamazepine, phenobarbital, phenytoin or topiramate use during pregnancy increases the risk of physical birth abnormalities compared with the general population
• Phenobarbital or phenytoin taken during pregnancy increases the risk the child may have difficulties with learning and thinking ability. Although the exact risk is not known, it is not as high as for valproate
• Phenobarbital, topiramate, or zonisamide taken during pregnancy increase the risk of the baby being born smaller than expected compared with the general population.
For some of the epilepsy medicines there is not enough information about their use in pregnancy to allow conclusions on their safety. There is some very limited information for the following drugs:
• Gabapentin and pregabalin – the risks of taking these during pregnancy are not yet fully understood. Some research suggests that taking pregabalin during pregnancy may slightly increase the risk of a baby being born with physical birth abnormalities
• Zonisamide – more research is needed to understand whether taking zonisamide during pregnancy increases the risk of having a baby being born with a birth abnormality or a learning or thinking disability
• Clobazam – some research suggests that clobazam may slightly increase the risk of a baby being born with physical birth abnormalities. However, the research that is available does not allow firm conclusions to be reached and the risk of harming a baby cannot be confirmed or ruled out.
Risk of having a baby born with a physical birth abnormality
| | |
| --- | --- |
| General population | 2 to 3 out of 100 babies |
| Carbamazepine | 4 to 5 out of 100 babies |
| Phenobarbital | 6 to 7 out of 100 babies |
| Phenytoin | about 6 out of 100 babies |
| Topiramate | 4 to 5 out of 100 babies |
| Valproate | about 10 out of 100 babies |
Lack of information
For the medicines listed below there is not enough information on their use in pregnancy to make any conclusions about their safety when used during pregnancy. This means the risk of harming a baby cannot be confirmed or ruled out.
Brivaracetam; Clonazepam; Eslicarbazepine; Ethosuximide; Lacosamide; Perampanel; Primidone; Rufinamide; Tiagabine; Vigabatrin.
The MHRA is instructing doctors to discuss with women both the risks associated with antiepileptic drugs and with untreated epilepsy during pregnancy.
Women who are planning to start a family should be urgently referred for specialist advice on their antiepileptic treatment. And all women using antiepileptic drugs who are planning to become pregnant should be offered 5mg per day of folic acid before any possibility of pregnancy.
Wherever possible, lamotrigine, levetiracetam or any antiepileptic drug that can be used during pregnancy, should be prescribed on its own, at the lowest effective dose.
Any suspected adverse effects experienced by the mother or baby should be reported through the Yellow Card Scheme.
Important advice
Important advice for women with epilepsy is:
• do not stop taking antiepileptic drugs without discussing it with your doctor
• if you are taking an antiepileptic drug and think you may be pregnant, seek urgent medical advice, including urgent referral to your specialist
• read the Patient Information Leaflet that accompanies your medicines and other information provided by your healthcare professional.
Professor Ley Sander comments
Professor Ley Sander said: "This report underlines the importance of prescribing the most appropriate epilepsy medication for women of childbearing age. And for young girls, as they reach the age of puberty.
"It can take months or longer to find the right medication or combination of medications that will give a person the optimum seizure control with minimum side effects. It is essential that all physicians also factor in the safety profile around the different drugs during pregnancy.
"Some of the older drugs which are associated with the greatest risk, such as phenytoin and phenobarbital would not be prescribed as a first line of treatment today. Some women are prescribed carbamazepine, zonisamide and topiramate. Carbamazepine has been shown to increase the risk of a physical abnormality in a baby while Zonisamide and topiramate have been shown to affect the size of a baby during pregnancy.
"If these are the only drugs that will control a woman's seizures and allow her to get on with her life – her education, employment, social life – then it might be wise to consider effective contraception alongside these treatments.
"Planning around pregnancy has always been critical for women with epilepsy. If you are thinking of starting a family, please ask to be referred to your neurologist so you can discuss your treatment plan and maximise both your health and the health of any future babies.
"If you are pregnant and are concerned about your medication, please seek medical advice straight away. Do not stop taking your medication as this could put you and your baby at risk from seizures."
Epilepsy midwife Kim Morley comments
Epilepsy specialist midwife and nurse practitioner Kim Morley said that the review would help empower women to feel central to decision making regarding choice and dosage of treatment.
"Women and their families should feel reassured that the majority of women will have a positive pregnancy and birth outcome and women who have attended for preconception specialist counselling, are more likely to fall into this group," she said.
"From the outset of diagnosis and during a woman's journey to motherhood, there should be regular, specialist monitoring of seizure control and response to treatment in order risks are minimised to the woman and her future developing child. 
"The balance between potential risks to the mother of having uncontrolled seizures versus the risks of a more complex treatment regime - and sometimes this will include a valproate medicine - has to be carefully balanced so as to minimise the future risk of harm to a woman and her developing baby if that treatment is changed. This harm in rare cases can include an increased risk of  SUDEP (Sudden Unexpected Death in Epilepsy). 
"The information provided in the epilepsy in pregnancy leaflet will help women feel central to decision making. Women will feel more knowledgeable and well informed about the potential risks and benefits of their epilepsy medicines when taken during pregnancy. This will also help determine their decision regarding future motherhood."
You can read Kim Morley's full blog here.
Call our Helpline
If you would like to talk to someone about the issues raised above, please call our Helpline on 01494 601400 (Mon-Fri 9am-4.pm, Wed 9am-7.30pm).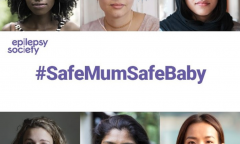 Epilepsy Society is calling for safer epilepsy medications in pregnancy in their Safe Mum, Safe Baby campaign.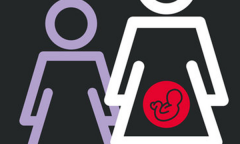 Sodium valproate is an epilepsy drug prescribed for all seizure types including absence, myoclonus and tonic clonic seizures. New regulations have been introduced by the Medicines and Healthcare products Regulatory Agency (MHRA) around the way in which the drug, sodium valproate is prescribed to women and girls of childbearing age.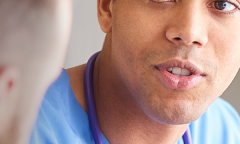 If you have just been diagnosed with epilepsy, you may have questions about medication and treatment.