Review into sodium valproate - your chance to have your say
An independent safety review into the epilepsy medication, sodium valproate, is now officially open and has put out a 'call for evidence' from those affected by the drug.
The review, chaired by Baroness Julia Cumberlege, will examine the way the health system responded to concerns raised about the harmful side effects of the anti-epilepsy medication.
Up to 40 per cent of babies exposed to sodium valproate during pregnancy are born with physical or neurodevelopmental  issues.
Baroness Cumberlege wants to hear from all those who have been affected by sodium valproate, including affected individuals, their family, friends and carers; regulators; NHS bodies and private health care providers; health professionals; manufacturers and suppliers.
You can submit your evidence online here.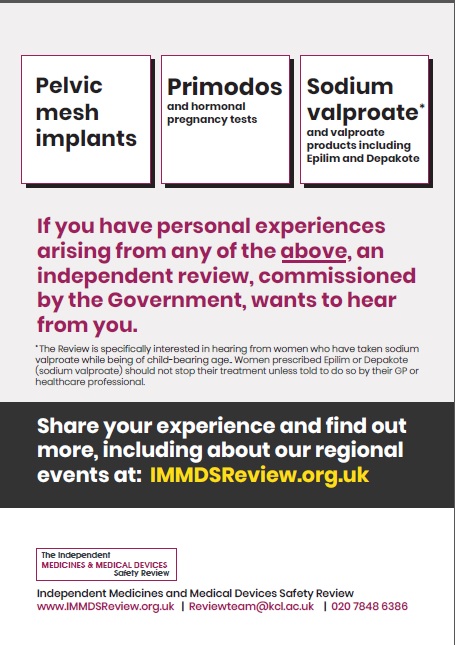 The deadline for submitting evidence is 24 October 2018.
What does the review want to know?
The call for evidence is being carried out by the Independent Medicines and Medical Devices Safety Review. It wants to hear as much detail as possible and offers the following advice:
If you are submitting evidence as an organisation, you should include details of your organisation's actions and experience in relation to sodium valproate as possible.
If you are submitting evidence as someone affected affected or as a family member, you could include a timeline of what happened, which organisations you interacted with, your condition, symptoms and side-effects, what advice you were given at each stage and whether and how consent to treatment was sought.
In particular, if you think there were instances where things went wrong, or were not handled in the right way, we would like you to tell us. We would also like to know if you think any opportunities for correcting a situation or making it better were missed.
If you have opinions about what needs to be done differently in future to prevent similar occurrences happening to others, we would like to hear it from you. This might be in relation to how things were communicated, processes that were followed, or people or organisations you interacted with.
If there are any documents relating to your experience that you think would be useful for us to see, please also share them with us.
If you submitted information to the Review prior to the Call for Evidence, please use the webform or email the Review Team at reviewteam@kcl.ac.uk to outline this information, confirm that you wish this material to be considered as part of the evidence.
The call for evidence is also looking at two other medical devices - primodos and vaginal meshes - alongside sodium valproate.
In each of the three areas the review will look at:
the robustness, speed and appropriateness of those processes and actions followed by the relevant pharmaceutical/ medical device manufacturers and applicants for and holders of licenses to manufacture and sell pharmaceutical products and medical devices, the regulatory authorities, healthcare providers, public and clinical bodies and policy makers;
whether problems could have been recognised by the relevant bodies, authorities, manufacturers and license holders and others sooner and more effectively;
whether the same bodies could, and should, have acted upon concerns sooner and if they did not, the reasons why.
In relation to sodium valproate, the review will look specifically at:
the circumstances of the pharmaceutical licensing of Sodium Valproate and treatment to date for women and girls of child bearing age based on the growing body of agreed scientific evidence as to its teratogenicity (causing harm during pregnancy)
how that scientific knowledge was, or should have been, communicated between the manufacturers, regulatory authorities, clinicians and patients and subsequently acted upon;
whether a consensus has been reached on defining the characteristics of the conditions referred to as Fetal Valproate Spectrum Disorders and the implications of this for proper diagnosis and assessment of the lifetime needs of those affected.
Regional meetings across the UK
Baroness Cumberlege and the review team will also be holding regional meetings across the country to hear the views of those affected by all three medicines and devices under review. This will be an opportunity to share your experiences but is  not an evidence-gathering meeting.
The following meetings specifically relating to sodium valproate have already been scheduled although you should always check the review website for further updates.
Cambridge:15 October 2018 (11-12.30pm) Homerton Conference Centre, Homerton College, Hills Road, Cambridge, CB2 8PH
Cardiff: 30 October 2018 (2-3.30pm) The Clayton Hotel, Cardiff, St Mary's Street, Cardiff, CF10 1GD
Glasgow: 13 November 2018 (am) Jurys Inn, Glasgow, 80 Jamaica Street, Glasgow, G1 4QG
Belfast: 6 December 2018 (am) Hilton Belfast Hotel, 4 Lanyon Place, Belfast, BT1 3LP
Exeter: 13 December 2018(am) University of Exeter, Reed Hall, Streatham Drive, Exeter EX4 4QR
Bristol: 30 January 2019 (pm) Bristol Venue to be announced. Please check website.
You can find out more about the review and any updates to the above schedule, here.
Changes to the regulations around sodium valproate
The regulations have changed around the way inwhich sodium valproate is prescribed to girls and women of childbearing age with epilepsy. If your doctor has not called you in for a review, please make an appointment with them to discuss how the changes affect you.
You can read more about the changes here.
You should never stop taking sodium valproate, or any other anti-epileptic medication, without consulting your doctor first.