Epilepsy information for GPs
The following information is designed to help GPs in delivering healthcare to people with epilepsy.
NICE guidelines on epilepsy
Access the National Institute for Health and Care Excellence CG137 The epilepsies: the diagnosis and management of the epilepsies in adults and children in primary and secondary care.
Best clinical practice for diagnosis and treatment of epilepsy QS26
QS (Quality standard) 26 defines clinical best practice within the diagnosis and management of the epilepsies in adults aged 18 years and over.
QOF indicators for epilepsy 2014/2015
The Quality and Outcomes Framework (QOF) rewards GPs for the provision of quality care and helps to standardise improvements in the delivery of primary medical services throughout England.
Patient online practice toolkit
From the end of March 2015, all general pactices in England are expected to offer patients the opportunity to make appointments, order repeat prescriptions and view their electronic medical records online.
Annual review for epilepsy
All adults over the age of 18 should have a yearly review with their GP or an epilepsy specialist. This follows NICE guidelines on the treatment and management of epilepsy.
Anti-epileptic drugs booklet
This postcard size booklet, updated in August 2018, contains photographs of currently licensed brand and branded generic anti-epileptic drugs (AEDs), used to treat epilepsy in children, young people and adults in the UK of brand versions of anti-epileptic drugs.
Order anti-epileptic drugs booklet from our online shop. Or download the pdf using this link.
Therapeutic drug monitoring
Find information about the uses and benefits of our therapeutic drug monitoring service for anti-seizure medication.
Epilepsy medication updates
Click on 'Latest' at the top right of the page to read the latest news and updates about anti-seizure medication, including new drugs, name changes, problems with supply of medication and any changes to guidance on taking epilepsy drugs.
Information updated: January 2022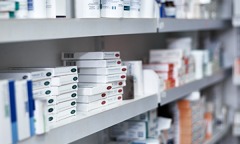 Guide for pharmacists working in registered pharmacy premises in the UK, co-produced by Epilepsy Society and Medway School of Pharmacy. Includes information about treatment, seizure types, points to cover with patients taking anti-seizure medication (ASM).
Download the lecture notes from the lecture 'From bench to bedside - A practical guide to epilepsy' from the Epilepsy Teaching Weekend from 14−15 May 2022