Yearly review
Guidelines on the treatment and management of epilepsy from NICE (the National Institute for Health and Care Excellence) say that all adults over the age of 18 should have a yearly review with their GP or an epilepsy specialist. Children and young people under the age of 17 should have a yearly review with a specialist.
A review is an opportunity to discuss your epilepsy and seizures, how they affect your life, any treatment you are taking, and any questions or concerns you have.
Your epilepsy review checklist
Seizures – the frequency and nature of your seizures may have changed in the last year and this is something you should discuss with your healthcare professional.
Medication – your seizures may be well controlled but you may be having side effects such as dizziness, tiredness, weight change, memory loss or cognitive impairment.
Your prescription – you may be worried that you have been given a different version of your usual medication and may be concerned about how this will affect you.
Remembering to take your medication – if this is an issue you might like to discuss using a reminder service such as alarms or timed text messages.
Stopping your medication – if you are seizure-free you may wish to discuss stopping your medication although this should only ever be considered in consultation with an epilepsy specialist.
Other tablets – if you are taking the oral contraceptive Pill you should let your GP or nurse know. The Pill can be less reliable when taken with some epilepsy medicines. You should also mention any other medication you take.
Women and epilepsy – some women feel that their seizures are worse around the time of their periods and this is something you could discuss. If you are pregnant or are thinking of starting a family, it is important that you receive expert advice. Your GP may refer you to an epilepsy specialist.
Menopause and hormone replacement therapy – these can affect epilepsy and this is a chance to review any necessary adjustments to your medication.
Feeling anxious or depressed – these affect many people at some point in their lives and you may like to talk about ways of coping with these feelings.
Lifestyle issues – you may like to discuss safety advice about cooking and bathing or sport and leisure activities.
Current driving regulations – if you have uncontrolled seizures you can check the regulations for your situation.
Employment issues – this could include whether or not you disclose your epilepsy at work and how to cope with seizures in the workplace.
Stress, lack of sleep, alcohol and recreational drugs – these can all trigger seizures and may be something you would wish to talk about.
Sudden Unexpected Death in Epilepsy (SUDEP) – SUDEP only happens to a very small number of people with epilepsy – about 1 in 1,000. The better your epilepsy is controlled, the less likely it is that this could happen to you. A review is a good place to talk about how you can reduce your risk.
A review should be booked in advance and you should have access to written and visual information and other relevant services.
This information is from an original article by Jenny Nightingale, epilepsy specialist nurse, in Epilepsy Society's magazine 'Epilepsy Review', January 2013.
Managing your treatment is an important part of managing your epilepsy, and seeing whether your medication is working. This might include having a care plan, including a treatment plan.
Pharmacists play a key role in helping to manage healthcare for people in the community. They are qualified to help you to use medicines safely, to help your medicines work as effectively as possible for you and to provide other services to help you stay well.
The decision whether to start taking anti-epileptic drugs (AEDs) can be difficult, and there is a lot to think about. Here we look at the benefits and risks of taking, or not taking, AEDs.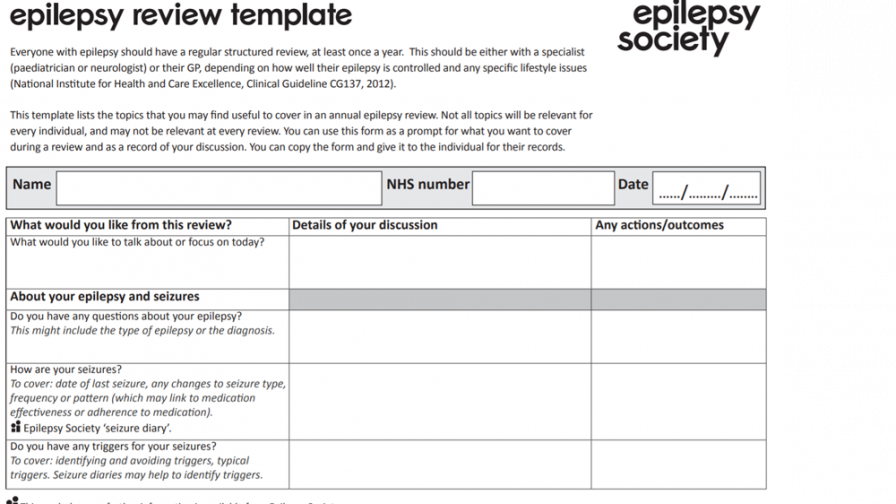 Yearly review template for healthcare professionals
Here is a template that your GP or specialist can use to carry out your epilepsy review.