SOS (Sick Of Seizures)
"When I was first diagnosed at the age of nine, I had no idea what epilepsy was, is or how it would affect the rest of my life."
"JOANN; stop daydreaming and turn around now or you'll be given lines." 
That is my first memory of having any kind of seizure; I was in school and was sat with my back to my teacher when I suddenly jumped and heard those words: it only seems like yesterday.
I went from being a tomboy who loved to play football, climb trees, play in mud; to someone who couldn't ride a bike, take part in any school activities (especially swimming lessons) my friends stopped being my friends, I wasn't allowed out anymore (at least not alone) I was the child who missed out on being a child and was instead the girl who was strange and wrapped up in cotton wool. 
Doctors came and went, my medicines changed constantly, the eeg's were the norm to me; I was the child who instead of being a child out with her friends now felt like a freak, who kept having a flashing light stuck on her eyes that left her with a migraine, the strange girl who always had to have a "special" friend and teacher at school to take her everywhere, class to class nurses room and even the toilet.
As I grew older my epilepsy just became worse until one day it just stopped; so they took me off my aed's I started driving lessons and started feeling normal; then I became pregnant and at 3 months I had 5 tonic clinic seizures in a row and was admitted to hospital. The doctor came in and said "your best option is to be sterilised because pregnancy is triggering your seizures" I was broken; I came from a big family and knew and had always known I wanted a big family at least 3 children, I just remember crying and thinking about how my unborn child would never have any brothers or sisters, how and if my unborn child was, I felt like I was grieving for something that I'd not yet had but had already lost. 
My son was born the greatest moment of any mothers life; I refused to allow him out of my sight knowing he was all I would ever have, looking back now I almost did to him what I had done to me because he was my only son; I sat and wouldn't take my eyes off him in case it happened. Every time he moved or jumped my heart would sink; I never believed in god but I prayed my sons entire life that he would be healthy and not suffer the way I did, that he would be able to have what I hadn't had, a normal healthy, fun filled, childhood and life and he has it (although I do still pray everyday)
I lied on job applications forms to work and eventually went back to college and found a job (didn't tell them the truth) then when it went well I had to tell them, and I was made medically redundant.
Then I was sent to Queens Square; the National Hospital for Neurology and Neurosurgery; there I met my neurologist, he was funny, kind and just treated me like a normal person (even asked me to make him my much-loved cheesecake). He was lost on my epilepsy and asked me if I would mind him taking me to the Chalfont Centre at Epilepsy Society for some tests; I had nothing to lose so the answer was a yes straight away. I spent an entire day there in and out of scanners there were 4 people, my neurologist, another doctor, a nurse and someone else and my husband of course; these people had so much patience they were kind, offering me tea, dinner I'd never felt this genuine concern and care not for my epilepsy but these people had it and nothing was too much trouble.
When we had the results back my options were VNS implant, the ketogenic diet and medication for life. I left and did the research the implant was a must try; at 40 the ketogenic diet would have wasted time and resources that would have been better spent on someone it could work for and the medication that was a necessity. Then when I went back to discuss the options, I finally had it; 31 years after being diagnosed I was diagnosed with the type of epilepsy I had;  
"Your epilepsy is pharmaco-resistant which means; your body will keep rejecting drugs. The only thing we can do is to keep putting you on new drugs as they come out and hope they work alongside you VNS implant". 
You'd think it have been shattered; I wasn't I felt able to breath now I knew what I was finally facing; what we were facing as a family.  Why wasn't I ever sent here earlier? I kept asking myself over and over, why had I never heard of this place before? 
Anyway, I had my surgery for my VNS on the 29th of January 2015 coming up to 5 years this month. It's amazing what these people do, I decided I need to give something back; after all thank you didn't seem like enough; it wasn't going to help find their work, research, their test centre, the people they care for and the lives they help save.
I decided I was going to run a 10K; I had never run in my life, but I started with my park run and on the 1st of September 2019 I did it; I completed my first official and time 10K and with a personal best.  My husband and family were on hand to support all wearing purple with banners and signs. I felt like I'd run the race of my life and with every step I just kept seeing all the loved ones I've lost to epilepsy and how close I've come to losing my own life and where I could be if it hadn't been for the Epilepsy Society. I crossed that finish line with my implant kicking in and an official thinking I was having an asthma attack and I was crying and laughing at the same time; he didn't understand until my voice came back.  My cousin and her kids stood there looking at me crying with me, my husband and father came running up because they hadn't seen me cross the finish line; they'd all split up to make sure someone was in a position to see me cross that line (it meant as much to them as it did me) after all it affects them as it does me: my son cried and kept sending me texts because work unfortunately couldn't allow him the day off to be there but he sent me such an emotional message.  This year I'm registered to do it all over again the Cardiff 10K and even the Cardiff Half marathon, we take part in table top sales, have two charity nights lined up (one being the purple party) on the first Saturday of November to kick start epilepsy awareness month, there's a live Facebook raffle (just like we done last year and someone won a Man United football), we even now do a charity bonus ball (with some prize ones too so more than one person gets a chance to win something). I stay in touch with the local councils to attend any family fun days with our purple banners, t shirts all armed with our information packs and our fun games and prizes; we manage to get the help from so many organisations from big football clubs, the Wru and most local high street stores and restaurants for prizes and donations. We are COMMITTED to raising as much awareness and money for this amazing Society as possible and will never stop.
Any and all donations are always welcome! That has become my new saying and motto, there is so much more research that needs to be done in this area; if we can help save a life or stop another person from going through the torment me and my family have gone through then we will have achieved our aim but we can only help the people who can make this happen; The Epilepsy society. Don't forget any and all donations are welcomed!
Our fundraising groups raise vital funds for people living with epilepsy. By setting up your own group you will be given the opportunity to fundraise in aid of Epilepsy Society.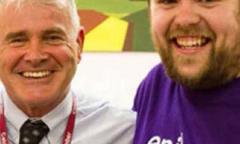 By supporting our cause you can help us make a difference to the lives of 600,000 people living with epilepsy in the UK.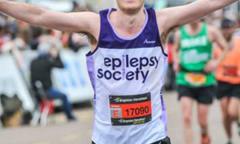 Support our cause in your own way and help us make a difference to the lives of almost half a million people living with epilepsy in the UK.