Zach Eagling - always a winner
Ten-year-old epilepsy campaigner, Zach Eagling, was honoured at a prestigious charity awards ceremony in central London on Friday.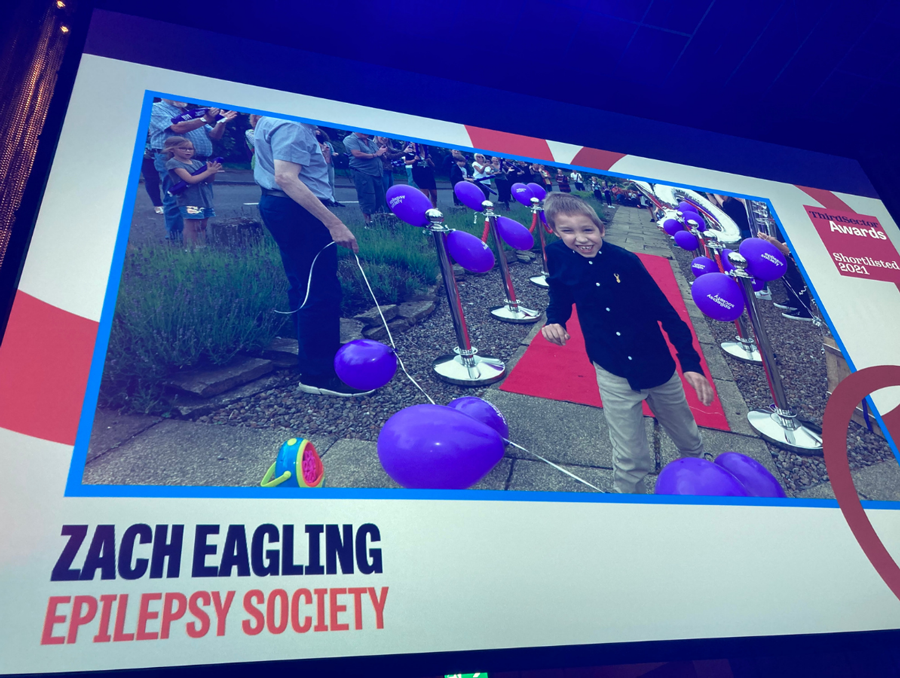 Zach, who is the courageous figurehead of the Epilepsy Society's #ZachsLaw campaign, was shortlisted in the Unsung Hero category at the Third Sector Excellence Awards alongside charity campaigners from across the UK. Zach was the youngest person shortlisted at this year's event. 
Although Zach ultimately did not win the award, he received praise from across the charity sector, and a special "finalist" certificate.
Speaking after the event, Zach's mum, Claire Keer, said: "I'm so incredibly proud to say he's my son. I want to thank the Epilepsy Society and the Third Sector Excellence Awards for showing everyone what an amazing young man he is."
Nicola Swanborough, Head of External Affairs at the Epilepsy Society, was also full of praise for Zach. She said:
"Not many 10-year-olds can say they have changed the lives of people with epilepsy through fundraising and campaigning, but Zach can. We are proud to know him and have him as part of our team. Always a hero."
Zach became the figurehead of our online safety campaign when internet trolls targeted his fundraising tweet with flashing images, aiming to cause a seizure. Zach was completing a 2.6km walk in his back garden – the first time he had ever walked unaided.
Zach has raised over £20,000 for the Epilepsy Society and has been a star campaigner in our fight against the internet trolls, appearing on national TV and across media, calling for #ZachsLaw to make social media safe for people with epilepsy.
In July, the Law Commission backed our proposals, recommending that the "intentional sending of flashing images to a person with epilepsy with the intention to cause that person to have a seizure" should be a specific criminal offence. 
For Zach, the campaigning continues. He will appear at the Conservative party conference to encourage MPs and party delegates to back #ZachsLaw and make the internet a safer place for people with epilepsy.
Well done, Zach!
The Third Sector Excellence Awards provide an opportunity for voluntary organisations of all sizes, and the people who work for them, to celebrate their work and the real difference they make to society. 
You can read more about Zach's campaigning here.