Promoting online safety through #ZachsLaw
Epilepsy Society is calling on the government to include safeguarding measures for people with photosensitive epilepsy in its Online Safety Bill.
The Online Safety Bill sets out government plans for a world-leading package of measures to keep UK users safe online. And the charity wants the plans to include legislation and regulations around photosensitive epilepsy.
In recent times, people with epilepsy have been targeted by internet trolls sending malicious flashing images with the deliberate intent to trigger a seizure. We understand the emotional impact and distress this has caused for some people with epilepsy. One of the people targeted was a nine-year-old boy with cerebral palsy and epilepsy called Zach.
Epilepsy Society are campaigning for the government's Online Safety Bill to criminalise the dissemination of malicious posts aimed at causing seizures and harming people with epilepsy. We are calling this campaign #ZachsLaw.
In the meantime, we are also in contact with the relevant social media platforms to work to reduce the risk to people with epilepsy online, including Twitter, TikTok, GIPHY, Tenor and Facebook.
Read the latest on our campaign and learn about how you can help.
How many people have photosensitive epilepsy
Around 20,000 people in the UK have photosensitive epilepsy where seizures are triggered by flashing lights or contrasting, quick-fire imagery.
Epilepsy Society is receiving an increasing number of complaints from people with photosensitive epilepsy who are vulnerable to seizures from shared online content with fast paced videos, animations and flashing lights.
Alongside this, malicious content is being 'tagged' with keywords around epilepsy to deliberately target those with the condition and induce a seizure.
What Epilepsy Society is asking the government to include
We want the UK government to:
Instruct the Crown Prosecution Service on how to prosecute offences against the person when someone has deliberately and knowingly disseminated online material capable of causing a seizure;
Include the knowing dissemination of online material capable of causing a seizure in the definition of an 'online harm' in online safety legislation;
Instruct social media companies to develop and employ technology that would prevent the dissemination of online material capable of causing a seizure.
We are also asking the government to:
seek information from social media companies, the police and Crown Prosecution Service about the number of complaints of this behaviour that have been made to them; and issue clear guidance that these are to be seriously considered for prosecution going forward;
consider the establishment of a levy upon social media companies to fund the development of algorithms that will filter this material, including the tailored development of the equivalent of the Harding Pattern and Flashing Image Analyser which is used to test the safety of footage for broadcast and games.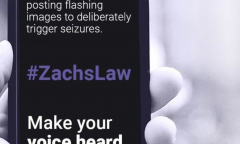 The Epilepsy Society is encouraging people affected by epilepsy to submit their views on online safety to an important parliamentary committee.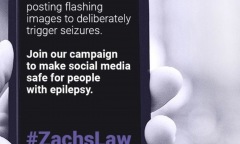 We are asking you to write to your local MP, asking for their support in including people with photosensitive epilepsy in the government's Online Harms Bill.
'Social media should be more like a National Park and less like the Wild West'
Clare Pelham, Chief Executive at Epilepsy society said: "Traditional television content is well regulated by Ofcom with warnings being given both audibly and visually before any flashing images are shown.
"Regulating online content in a similar way would be extremely challenging, if not impossible. Social media is, by its very nature, informal and user-generated.  That is its joy and its danger.  But it needs to more like a National Park and less like the Wild West.  Some things that cause harm should be banned.  And that includes content that could trigger a seizure for someone with photosensitive epilepsy.
"For many people with epilepsy, social media offers a life line, enabling them to connect with others who share an understanding of the issues that accompany a life punctuated by seizures.
"People affected by the condition can offer each other 24-hour peer support, with shared experiences helping to lessen the loneliness of the shared condition. But people must feel safe online especially when they are in their own homes.
"I am sure that the social media giants will find willing volunteers among their socially-conscious staff with the right expertise to ensure their platforms are safe, inclusive places to share content, ideas and friendship, without any fear of harm."