Using the TDM service
The assay service is routinely available Monday to Friday, 9am-5pm. For urgent assay requests, please contact the unit in advance. The unit will report on non urgent assay requests within 3 working days of receiving the sample in the laboratory, excluding weekends or bank holidays.
Presently, we are the only anti-epileptic drug TDM service in the UK that provides an analytical service for 24 anti- epileptic drugs currently licensed for clinical use and 2 pharmacologically active metabolites and are therefore a one-stop referral service for anti-epileptic drug TDM.  
On-call service
The Unit does not provide an on-call service.  
Requesting
Please use the Antiepileptic Drug Level (Concentration) Request Form (downloads as a Word document). The form needs to be completed appropriately and clearly to enable efficient processing of assay request. Reason for request
In order to aid interpretation of results and to identify additional test requirements, it is helpful if the reason for the assay request is indicated. This can be indicated by ticking one of the five boxes printed on the request form or by specifying accordingly. This information is also useful for audit purposes.  
Specimens and sampling time
An appropriate specimen is essential for effective monitoring. This requires that the patient is at steady-state on the present dose of the drug, except when suspected toxicity is being investigated, when waiting to attain steady-state is clearly contraindicated. Steady-state concentrations (levels) can be expected to be achieved when five half-lives have elapsed, unless loading doses are employed when they are attained more rapidly.
5 mls of blood collected into a plain glass tube or lithium heparin tube to provide serum or plasma respectively is usually sufficient for most assays or assay groups.
All tests are available for blood and saliva. All AED assays are available as total plasma/serum concentrations or as free non-protein-bound concentrations.
Collection of saliva samples
1. The ideal sampling time is just before the ingestion of the next scheduled drug dose. If this is not possible, sampling should occur at least 2-3 hours after drug ingestion.
2. If possible, stimulate salivary flow by chewing of inert parafilm ball or by putting a drop of citric acid onto the tongue.
3. Saliva can be removed from the patients' mouth by use of a suitable syringe.
4. The saliva collected during the first 2 minutes should be discarded.
5. Saliva (1-2 mls) should be collected into a suitable container and stored frozen until dispatch to the laboratory for analysis. If the saliva sample is to be dispatched on the same day, there is no need to freeze the sample.
Urgent specimens must be indicated on the request form by ticking the 'Urgent' box or clearly writing 'URGENT'. The requesting doctor should clearly indicate on the request form a bleep number or a contact telephone number.
It is the doctor's duty to ensure that laboratory staff are informed of known and suspect high risk specimens.  
Ideal sampling time
This should be adhered to whenever possible. Drug concentrations (levels) measured at these times provide more meaningful information. Samples not taken at the 'ideal time' can be interpreted if the exact time of drug dose and actual sample time are known. Please clearly indicate this information on all request forms. See the table of AEDs (PDF).  
Reference range
This is the range associated with optimal efficacy and minimal toxicity for the majority of patients. It is important to recognise that some patients will require concentrations (levels) outside of the quoted reference range for optimal clinical response. See the table of AEDs (PDF).  
Time to steady-state
This is the earliest time a drug concentration (level) should be measured either following initiation of therapy or a change of dosage (unless therapeutic failure or toxicity is suspected). During suspected toxicity, sampling should be undertaken at a time when adverse events are presenting. See the table of AEDs (PDF).  
Reports
Reports are printed, upon completion and validation of drug assay, throughout the day. Assay requests indicated as 'Urgent' will be telephoned to the requesting doctor provided a telephone number or bleep number is clearly indicated on the request form.  
Target turnaround times
The importance of having timely reports is well recognised and thus our typical turnaround times are within 3 working days of receiving the sample in the laboratory, excluding weekends or bank holidays.  
Sample information
In order for the sample to be processed efficiently and for the results to be interpretable, it is important that the following information is provided:
1. Patient name, sex and date of birth
2. Anti-epileptic drugs for which analysis is requested, including prescribed dose(s)
3. Time of saliva sampling
4. Time of drug ingestion
If it would be helpful, please use the unit's dedicated request form (downloads in a Word document).  
Dispatch of samples
Samples (unfrozen) should be dispatched by first class post, using packaging currently recommended for transporting pathological samples by post and forwarded to: Therapeutic Drug Monitoring Unit (TDM), Epilepsy Society, Chalfont St Peter, Chesham Lane, Buckinghamshire, SL9 ORJ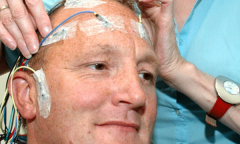 The following information should tell you everything you need to know about having an EEG at our EEG Telemetry Unit.