Chloe's story
#SafeMumSafeBaby
Chloe Hambling experienced seizures in her recent pregnancy and felt anxious and concerned about her baby's health. She is now eager to raise awareness of epilepsy and to ensure more research is undertaken to develop safer drugs for other pregnant women with the condition.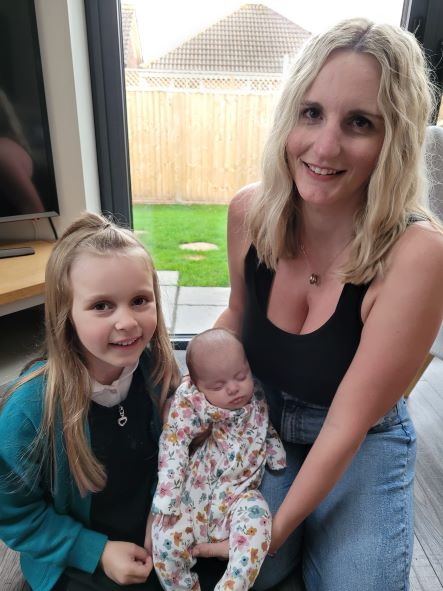 Chloe is a 31-year-old mother of two from Wiltshire who experienced seizures during her recent pregnancy. She is now determined to spread awareness of epilepsy – especially among young women and girls and mums-to-be.
Chloe's experience of epilepsy has been long and complex. She was diagnosed with Juvenile Myoclonic Epilepsy aged just two, although she had experienced seizures since birth.
After a decade seizure-free as a younger woman, her seizures returned prior to her first pregnancy, aged 26. Fortunately, she did not experience seizures during this pregnancy, although she did experience one three days after the birth. During her second pregnancy, however, she had three seizures. While pregnancy can be an anxious time for all expectant mothers, Chloe now feels that her epilepsy added extra complications. 
She told the Epilepsy Society: "I was extremely anxious during both pregnancies for a number of reasons. Firstly, I was concerned about the impact my medication may have on my unborn baby. I had heard about the side-effects associated with sodium valproate and while I was not taking that specific drug, I was concerned about the impact of my own anti-seizure medication.
"I have been on a wide range of medicines since childhood and while I am now on Lamotrigine, which I know has less risk, there are still many unknowns.
"Alongside that, I was really worried when I started having seizures prior to my first pregnancy after a ten-year period of being seizure-free. I was petrified about how my seizures may harm my unborn baby.
"It was a very anxious time, which is why I now support the need for more research into safer medicines and why I want to raise awareness of epilepsy as a condition."
Chloe believes that with more funding for safer medicines and treatments, a significant amount of anxiety could be removed from pregnant women with epilepsy.
Chloe said: "Pregnancy is such an emotionally draining time for most mothers. For women with epilepsy there are added concerns. Will my medication affect my child's development? What if I have a seizure when heavily pregnant? If more money could be given to research safer medicines, then a large part of this anxiety could be relieved."
Chloe's eldest daughter is now five years old, while her second was born this September. In her most recent pregnancy, she had a "very attentive and supportive" epilepsy nurse who provided her with reassurance, guidance and care. But she realises that this is not the case for everyone. Indeed, during her first pregnancy five years ago, she felt there was not as much support for pregnant women with epilepsy.
"In my recent pregnancy, I was very lucky to have a fantastic support system around me", Chloe said. "My epilepsy nurse was so supportive and helped me at every step of the way. It is so important that other women with epilepsy have access to similar specialised care."
In recent months, Chloe has developed a following on Instagram, where she brands herself as the Epileptic Mummy. So, why has she chosen to speak out so publicly? 
"When I was first diagnosed with epilepsy, there was very little information available", said Chloe. 
"Having had epilepsy all my life, I can clearly see the changes that have happened. Awareness among the general public and health professionals has definitely increased, but there is still a long way to go.
"Like many people with epilepsy, I have had times in my life when I was embarrassed about my condition. There can be a real stigma around epilepsy, and I have felt that myself. 
"Epilepsy may not be considered a "trendy" condition, but it can be extremely serious. It is important to highlight that to people. There are so many issues connected to epilepsy that people don't always appreciate. One big concern is the lack of independence. I am not able to drive and so this has impacted the opportunity for me to further my career. I recently had to withdraw an application for a job because it was going to be difficult to get there due to having to rely on others for transport.
"In general, I want to raise awareness of epilepsy – but I particularly want to help other young mums like me. For example, I am unable to carry my daughter down the stairs, or bathe them alone, in case I have a seizure. That may seem a small thing to some people, but I know that other mums with epilepsy will understand the upset that can cause.
"I was very lucky during my pregnancies to have a fantastic community around me – my epilepsy nurse, my husband and my mum, especially – but not all women with epilepsy have this. Mothers with epilepsy can help to support one another."
Chloe has been delighted with the response she has received from other young mums on social media. People from around the world have reached out to share their personal stories and she is keen to continue to build a supportive community. 
She hopes that with more funding for research, and an increase in epilepsy awareness, pregnant women and those who hope to become pregnant in the future will not have to experience the same levels of uncertainty that she did.
More information
Find out more about our Safe Mum, Safe Baby campaign.
A report from the Commission on Human Medicines has shown that some of the most commonly prescribed epilepsy medications including carbamazepine, topiramate, zonisamide and phenytoin, pose an increased risk of harm to any baby exposed to them during pregnancy.
It is well established that valproate carries a high risk during pregnancy and should never be prescribed to girls and women of child bearing age unless they are part of a birth control programme.
Lamotrigine and levetiracetam are the safest drugs to take during pregnancy.
It is important that no woman should stop taking her medication without consulting her doctor. All girls and women of childbearing age should be called in for a review with their doctor so they can discuss their treatment options and ensure that they are on the safest possible medication for them.
Any woman who is planning a baby, should be referred to her neurologist.
Letter of support for a review with your GP
Our Medical Director, Professor Ley Sander, has written the following letter to support all women in requesting a review with their doctor.
Download a pdf of the letter here.
More stories
Read about the challenges other women with epilepsy face when thinking about starting a family.